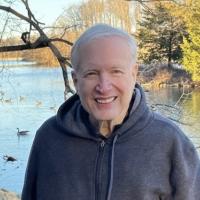 David Rothman
David Rothman is author of The Solomon Scandals (Twilight Times Books), a gritty mix of suspense, satire and tragedy set in the Washington of several decades ago. An ancestor was a Jewish tax collector under the Tsar, and bureaucracy and hierarchy fascinate David today.
He has just published Drone Child: A Novel of War, Family, and Survival, about a brilliant child soldier turned drone whiz turned sea-going pirate turned entrepreneur turned tycoon-philanthropist writing his memoirs. 
David founded TeleRead, the Web's oldest sources of e-book news and views. In freelance writings in the Washington Post, U.S. News & World Report, The Chronicle of Higher Education and elsewhere, he has advocated a well-stocked national digital library system. Today he runs LibraryEndowment.org, a related site calling a multi-donor national library endowment. A Washington-area native, David lives in Alexandria, and is reachable at davidrothman@pobox.com.