Voters Guide Decision 2011: We endorse The Current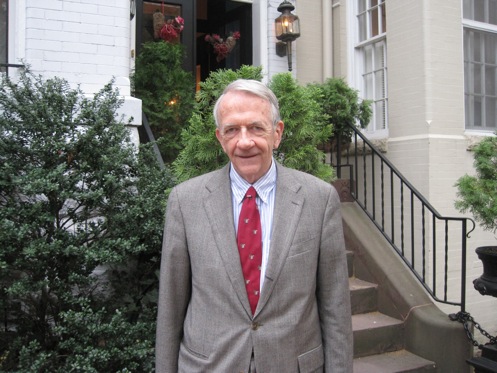 Each year since 1994, The Current Newspapers Publisher Davis Kennedy and his team have offered readers a needed resource -- a Voters Guide that reviews candidates, presents the issues in thorough detail, and slices and dices the politics and the prose to help readers make the most critical decisions in a democracy. With the special election for D.C. Council at-large less than a week away, we asked the Current's publisher a few tough questions. He answered. For his honesty, his commitment to the District and to the highest standards of journalism, Davis Kennedy, without peer, gets our vote.
Why do you publish the Voters Guide?
We feel that many voters want the opportunity to make intelligent choices based on their own feelings and opinions about candidates. Most political advertising does not offer the kind of information that many voters really need to make intelligent decisions. Neither do most news stories.
How long have you been doing it, how much time does it take, what is the process?
We have been publishing the voters guide since 1994, but only for local races. Unfortunately, the Presidential candidates are not anxious to take the time to be interviewed by us! Each candidate interview normally takes about three hours. We also spend untold numbers of hours preparing the questionnaire. The first question we ask is what are the three areas the candidate would concentrate on most should he or she be elected. We then cross examine them on these areas. Then we have about 70 questions for short answers. We only publish the ones where the candidates disagree or if we think the question is truly about a key issue.
Are you a D.C. politics junkie? Do you feel the same way about national politics?
I don't think any of us are D.C. politics junkies. Our papers only cover local issues, so we do not cover the national races.
How do you get your news?
We attend endless meetings of advisory neighborhood commissions, community groups and the City Council and its committees. We then follow up by asking people who did not attend the meetings, but are likely to be involved with the particular issue.
Did you ever think about running for political office?
No.
Who are your favorite journalists? Why?
Journalists who try to present all the relevant sides of the issues they are covering.
If you could trade places with anyone in the course of history, who would it be and why?
Otto von Bismark. Given the situation of his time, he knew how to accommodate the various factions and produce results. He realized that the way to form an alliance with a defeated major enemy was to be generous. He took nothing from Bavaria or Austria after defeating them and as a result Bavaria joined the German empire and Austria became a major ally. In domestic politics he realized the way to defeat the Marxists was to give the people Social Security and other social benefits in a manner that would not bankrupt his country while at the same time convincing his monarch that doing so would prevent a revolution.
If you could have one wish granted by Mayor Vincent Gray, what would it be?
That he take action immediately when there are questions of morality, while continuing to consult a broad spectrum of the community while setting policy.
What is your favorite memory of growing up in Washington?
When my father was a commander in the U.S. Navy and I was five, he got me a captain's suit - so I could think I outranked him. We would go walking along a street and soldiers and sailors would salute me, rather than him, as the "ranking" individual.