Undoing the work of the John Henrys of yesteryear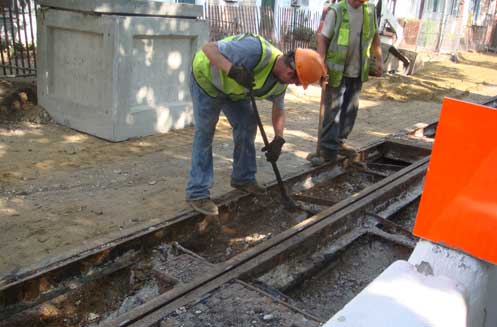 Smells of gasoline and metal fill the hot morning air as construction crews rip up the O & P streets rail tracks while roaring trucks and deafening sledgehammers cavort amidst Georgetown's old homes.
This week,, the National Park Service came to the O & P Streets Rehabilitation Project to photograph and survey the old rail system. Apparently these tracks are the only example left in the world of the underground electrical conduits that powered the streetcars. The only other known system was in London, making these Georgetown tracks historically significant.
"We wanted to document the street car rails… it was such a unique system," says Justine Christianson of the Historic American Engineering Record Division of the National Park Service. "There's probably more lines covered up." In describing the general construction of the rails, Christianson says the tracks were set in a concrete yoke that the streetcar was guided on. Within this yoke was the electricity that powered the cars. Over the years, the rails were covered by layers of dirt and pavement, being essentially forgotten until the crews came in to replace the water pipes.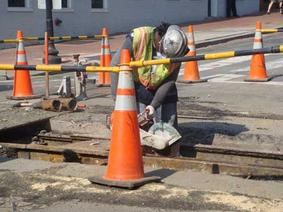 While Christianson describes the Park Service's duties, her co-worker, Renee Bieretz, is busy taking photographs of the tracks. The black and white photos will be processed, and then sent to the Library of Congress. "We will write up a history about the rails," says Christianson. "The documentation will take a couple years. We're going to come back and take afterward photos."
How many streetcar tracks still lie beneath the streets of Georgetown is still a mystery. Based on today's findings, the National Park Service will decide whether it is necessary to continue its research. As for now, the deconstruction and reconstruction of O and P streets continues throughout the summer.
So, John Henry, you old steel-drivin' railroad man, take heart, your work will be documented forever in the Library of Congress.
Reported by Katlyn Prentice