Say yes to the dress part deux: the faux bride experience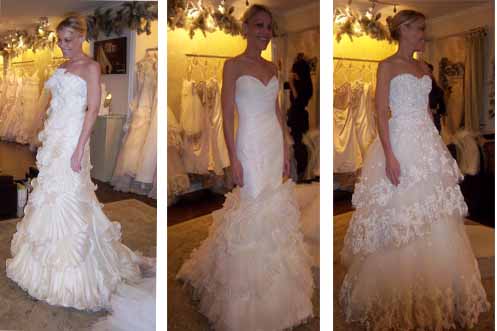 Legit bride…check. Bridal Atelier…check. Potential groom..well, two out of three ain't bad. As long as one of us has that—we're good to go. One of us does, indeed have that. Hint: it isn't me.
It's wedding dress morning. I'm a little apprehensive. I ponder, WWKD (What Would Kate Do)? I have no idea. Neither does Wills, but he has people to do that for him. What I did was throw on a pair of jeans, sweater and a pair of Cowboy boots. Somehow I figure the easy on, easy off route is the way to go for trying on dresses.
We arrive at Carine's and make our way upstairs to her den of snow-white couture. The atelier is beautifully, yet simply appointed with a sea of white, beige, cream and multi-shaded dresses displayed and hanging in rows and rows of silks, tuille, pearls, lace and bling.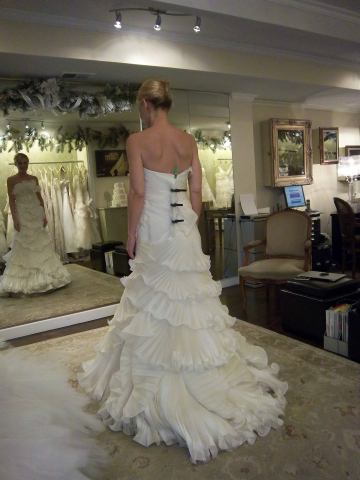 There are also jeweled belts, earrings and tiaras and necklaces and even garters.
As you might have guessed, my taste runs toward the more unique; the more fashion forward; a little more risk. Of course, there actually is no risk at all for me, really, because I'm the half of our bridal duo with no real wedding, no real ring, no real fiancée. I also have no real budget. Perfect case scenario. Kaye, however, has all the realities of the aforementioned. We both have very similar taste.
These are not bargain basement styles by any means. Bridal gowns are expensive—but there are thousands of dollars of diversity in price. The gowns we tried on were in the range of about $6500 to over $14,000 (hey Wills, that's about £3994.71 to £8604.00—you better tell your Mum to sell a couple pieces of the Crown Jewels). Carine's Bridal Atelier has top designers, and with that there is a price. Remember, this is THE dress—the one that will live in photos for generations to come. This is no time for frugality.
Carine acts as coach, expert, stylist..you name it. She is the consummate wedding gown pro. Kaye speaks to Carine, who goes over her preferences in design, budget, and wedding date. We both feel like we're in the best possible hands. My thoughts briefly turn to the future groom--*crickets.* Yup…for the most part this is a testosterone-free zone. So I scan the rows of white material—carefully hung on racks against the wall. I mentally pick out a few. Carine, who seems to have bridal ESP, picks some out for us. They are pretty much exactly what I had been ogling. For me, there is a intricate Marchesa, a mermaid style Rivini and an ornate and slightly more full Monique Lhuillier—with bling.
I note, as I put each on, how heavy they are as compared to any standard gown. Since bridal sample sizes run about 6 to 8, and I am a size 0, they were all a little large. They are pulled to fit any body with these black clips. Kind of looks Frankensteinish, but necessary. Good thing Carine is around to help, by the way, because these things can be a chore to get into. The first is the Marchesa number which is called "Roses." It's a cacophony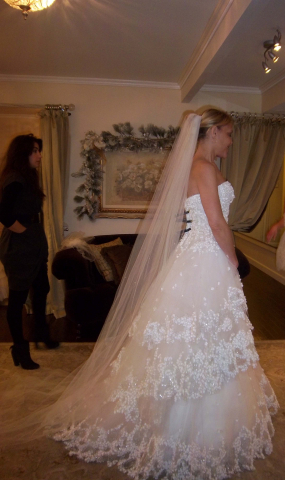 of fabric flowers from top to bottom. I'm not sure if I feel like a fairy princess or a potted plant. But it is beautiful. This was followed by the Rivini " Lismora" mermaid style dress with cascading ruffles on the bottom—this is more 'me,' and I note it can be dyed. I'm thinking this is the one that would make a great gown for a formal event. Last up is the incredibly intricate, tiered Lhuillier "Daisy (I note these gowns are all named like pets)." It's full and very 'bridal' looking. Carine adds a veil. Wow—I look like a cross between Cinderella at the ball and a meringue pie.
In interest of being true to my guilty pleasure TV show, I post photos of each dress on Facebook and sit back, gritting my teeth, and wait for the reactions. The 'winner' of the popular vote is the Rivini—although the others do receive plenty of accolades. I note how some people choose, for me, what they would wear, not what I would wear. Just like the TV show. Also that family tended toward the more traditional; friends toward the more fashion-forward. My Mom, fearing, probably quite correctly, she will never see this again in her lifetime, asks me to send her the photos. Hey, Mom, don't hold your breath, but don't completely give up hope--stranger things have happened. My kids, technologically, just pointed and laughed.…ingrates.
To be serious, though, each selection is absolutely gorgeous; each dress an absolute work of art. I am, however, only playing dress up—so I'm missing the all important emotional factor that should accompany this experience. Saving that for the actual bride.
PART THREE of THREE PART SERIES COMING SOON