Police to crack down on noise with new law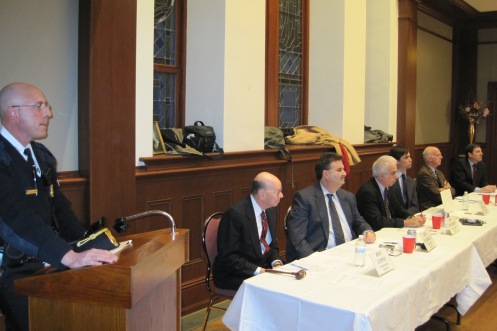 The Metropolitan Police Department will increase enforcement of noise violations starting in the early hours of Tuesday using a new law under which MPD officers may arrest violators based on whether noise is "likely to annoy" neighbors or is observable by police called to the scene, according to Lt. John Hedgecock, who spoke at the Georgetown ANC meeting Monday. "We plan on using this law effective tonight at midnight," said Hedgecock. Officers may use the law against a loud street musician, house party, car stereo and other disturbances, Hedgecock said.
The law makes it unlawful "for a person to make an ureasonable loud noise between 10:00 pm and 7:00 am that is likely to annoy or disturb one or more persons in their residences." Police may arrest violators on site, using handcuffs and other measures. Violators will face misdeameanor charges, a $500 fine and up to 90 days in jail.
Asked if police would step up enforcement of noisy revelers leaving Georgetown bars at night, Hedgecock replied, "Absolutely." He said police would be especially vigilant along Prospect, N and O Streets. One Georgetown resident said, "The music in the house next door to mine is 24/7. Do you have to hear the throbbing in my house?" Hedgecock said officers could use their discretion to detect "observable" noise from anywhere near the source and make arrests accordingly.
ANC Commissioner Bill Starrels said the new law and stepped up enforcement was a win for D.C. neighborhoods city-wide. "This is a huge tool for the police. Before, it was just tougher to enforce the laws. This [new law] should result in a better quality of life for residents across the city," he said.
Previously, police had limited or no power to control ear-piercing car stereo systems and other environmental noise in residential and commercial areas. That will now change, police said.
The law was not just aimed at Georgetown, Hedgecock said. But, he said, "I get that question a lot."