Newsbabes battle breast cancer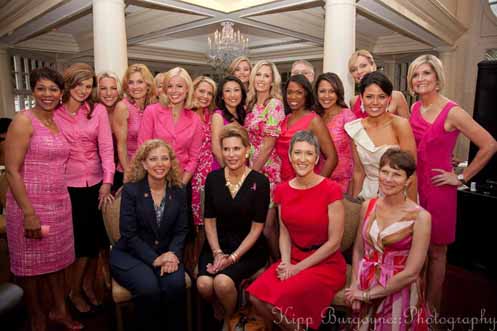 The Fairmont Hotel was blushing a little on Tuesday night as the third annual Newsbabes Bash for Breast Cancer. About 200 guests including NBC 4's Eun Yang, WJLA's Pamela Brown, Honorary event host and Man About Town, Bob Madigan, CNN's Briana Keilar, WUSA 9's Anita Brikman and Angie Goff, DNC Chairwoman Debbie Wasserman Schultz (D-FLA), Ambassador Nancy Brinker, founder and CEO of the Susan B. Koman, and more gathered to bring awareness to this pervasive disease that strikes 1 out of 8 women in the United States alone.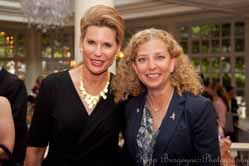 Fox News Channel's Jennifer Griffin, a triple negative breast cancer survivor, along with colleagues and honored guests offered words of hope and inspiration to the crowd. Susan B. Koman for the Cure is named in memory of Brinker's sister who passed away from breast cancer at the age of 36.
The Newsbabes Bash is a kick-off event to Washington, D.C.'s Susan G.Komen Race for the Cure, which will take place in DC on June 4th. The event debuted in 2009, when a group of friends in the TV news industry got together to tackle the cause of breast cancer. The reception, always replete in its signature blush colors, draws survivors, advocates, media and politicos all hosted by a team of female journalists from local and national media affiliates.
Guests mingled and shared stories of tragedy and triumph while munching on an array of hors d'oeuvres, cupcakes and signature pink cocktails. Also on hand were Fresh 94.7's Tommy McFly, Chris Brown of Quinn Gillespie, PR doyenne Janet Donovan, Ladies DC's Lindsey Mask, Carl Halvorson of Michel Richard restaurants, CityGirlBlogs Stef Woods and more.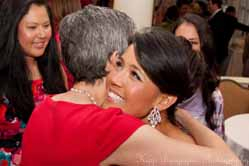 Breast cancer is one of the most common cancers among women in the United States. It is the most frequently diagnosed cancer among nearly every racial and ethnic group. Georgetown Hospital suggests: early detection by performing regular monthly breast self-examination, seeing your doctor once a year for a clinical breast exam, and scheduling an annual digital mammogram, as appropriate based on age and family history.
For further information, see http://www.dcnewsbabes.org/ or http://ww5.komen.org.