Mayor closes budget briefings in Ward 2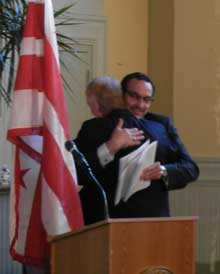 A tone of "official friendliness" prevailed at D.C. Mayor Vincent Gray's Ward 2 briefing on the FY 2012 city budget. Host councilmember Jack Evans, gave a warm introduction for the Mayor, talking about how well they worked well together when both were council colleagues, yet their differences remain, especially over Evans' continued opposition to raising taxes. Evans also emphasized the need to keep recruiting MPD officers to keep the force up to strength.
The briefing at Immaculate Conception church in Ward 2's Shaw neighborhood was Gray's final ward meeting on what has been a difficult budget process with revenue short falls and Gray's determination to balance the budget, while maintaining city services.
Supported by Chief Financial Officer Natwar Gandhi, the Mayor gave an in-depth presentation on revenue and expenditures and his proposals to raise revenue.