The Mandarin Oriental celebrates Chinese New Year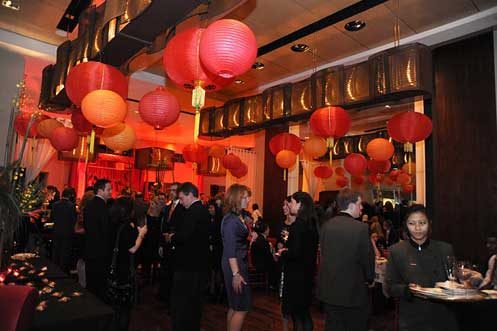 The Chinese year 4709, the Year of the Rabbit, beginning February 3, 2011 was welcomed in in a very special way at the Mandarin Oriental Hotel.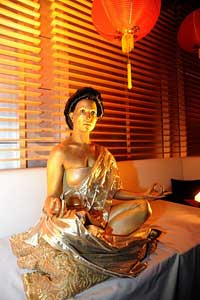 "This is an annual event for the hotel, but it was my first year producing it," said Hotel Manager, Amanda Hyndman, "so I wanted a very festive and vibrant event. We transformed the interior space in Sou'Wester Restaurant to a creative oasis celebrating the Chinese New Year. On the bars fixtures, buffets, and counters, we used arrangements of tall and varied glass vessels and striking Asian Inspired blooms. On all of the other remote floral pieces we used Zen inspired flowers in red, orange, and pink in Chinese box containers. Red candles were placed on dining tables throughout the common space and on shelves of the restaurant. The tables were dressed in festive gold, red, orange, and anchored in black Chinese inspired linen to the floor, and red Chivarri chairs with raw silk lumbar pillows and rich fabric accented space."
The Live Buddha was popular with guest. She remained still like a living statue, but did interact with guests.
The myriad of red, orange, and gold Chinese Inspired Lanterns hanging throughout the entire restaurant at varying heights created the effect of color and interest. Zen-garden style fountains, placed on pedestals and fog machines around the room provide a mystical-transcendent atmosphere.
Guests dined on a lavish buffet of Chinese fare, complete with an Asian Market where ducks hung from poles. A pig station under a canopy market, and a beautiful ice sculpture were present as well.