Hyde-Addison club gets gourmet at Al Tiramisu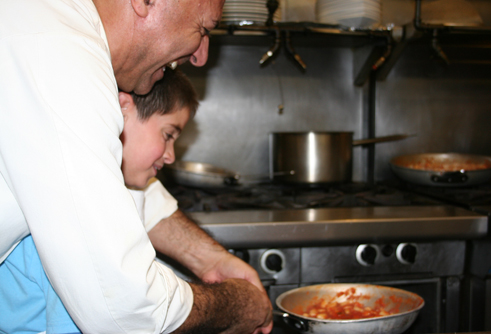 By Carol Buckley....Current Staff Writer
...
School lunches are getting a better rep than ever, with luminaries from Michelle Obama to Alice Waters working to put healthy, tasty food on students' plates.
But the Hyde-Addison Elementary School cooking club offered a twist on the school-lunch movement yesterday: Instead of simply eating the healthy food put in front of them, about 10 students crowded into chef Luigi Diotaiuti's gleaming restaurant kitchen to concoct their own gourmet lunch.
Diotaiuti, chef and owner of Dupont's Al Tiramisu restaurant, conducted the class as a simplified version of his intense, multi-session courses for adults. Third-, fourth- and fifth-graders donned aprons, washed hands and enthusiastically followed the directions of their instructor, a native of southern Italy.
After the cooking club members -- all female, with one exception -- rolled potato-rich dough into ropes and cut each into pillowy gnocchi, it was time for the first course as the dumplings rested: mixed greens dressed simply with olive oil and balsamic vinegar.
Plates were cleaned, and many students of the Georgetown school went back for seconds. After the garnish -- olives assembled into "rabbits" -- proved an equally big hit, even with the few students who had never had olives, many small hands dived for extras on a plate provided by Diotaiuti.
One of the chaperones for Tuesday's field trip was not surprised about the enthusiasm for plates of salad. Kelly Callahan, a Hyde-Addison parent, science teacher and caretaker -- with student workers -- of the school's vegetable garden, has seen events far stranger.
Kids munching on chives, mint and mizuna on the school playground is not unheard of, she said, and the small servings of salad that students prepare using greens they've picked themselves are always big hits. "They come back for four and five servings," she said.
Dr. Evan Nadler, a Hyde-Addison parent and co-director of the Obesity Institute at Children's National Medical Center, arranged Tuesday's class after meeting Diotaiuti, who is as enthusiastic about health as he is about cooking.
The connection between cooking and eating is key in encouraging kids to eat healthy food, Nadler said. "Cooking gives them knowledge … as well as a sense of pride when they learn to cook something in a healthy way."
Tuesday's class was also an important rehabilitation of Italian food for students who likely consider pizza and heavy pastas to be typical of that cuisine, Nadler added. "Luigi is about the root of Italian food, which is really the healthy Mediterranean diet," he said.
Italian is just the latest conquest for the school's cooking club, said club organizer and Hyde-Addison teacher Leah Stein. Since the formation of the group, students have tackled Mexican, Indian and Asian cuisines.
That works for third-grader Fiona Madrid, who's already mastered some all-American classics. "At home, I cook beef stroganoff and apple pie," she said. Like Diotaiuti, she accepts the help of a sous chef in the kitchen: "My dad gets stuff together, but I cook it," she added.
Club members will get a second lesson in Italian cooking tomorrow, when Diotaiuti will cook with them again, this time at the Georgetown school's campus.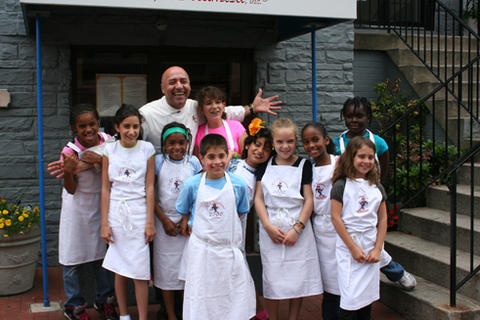 Kids also learn in the club that cooking isn't only about eating, Stein said. Students prep foods, clean up and plan for future meals.
But on Tuesday, at least, Al Tiramisu's staff saw to the washing up, leaving students to do the fun stuff: toss gnocchi in a light red sauce and a bit of olive oil for what Diotaiuti called "that beautiful gloss" on top.
And when the still-aproned cooks sat around a long table to eat their long-awaited main course, they were clear on who had been in charge in the Al Tiramisu kitchen.
"Mmmm, that's delicious," said Diotaiuti, diving into the gnocchi. "Who made it?"
"I did!" came the immediate chorus.
This article appears in the May 25 issue of The Georgetown Current newspaper.