Georgetown Renewal Tour Kicks Off with Shoes and Style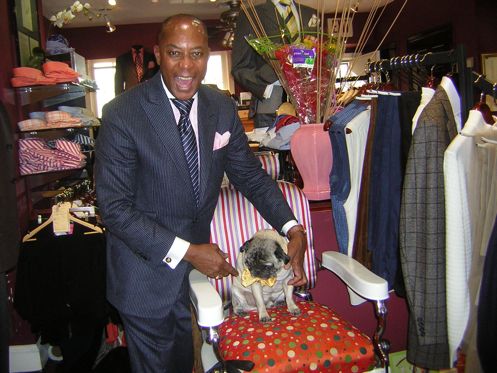 By the time The Georgetown Dish arrived at Everard's Saturday, bouquets of flowers poked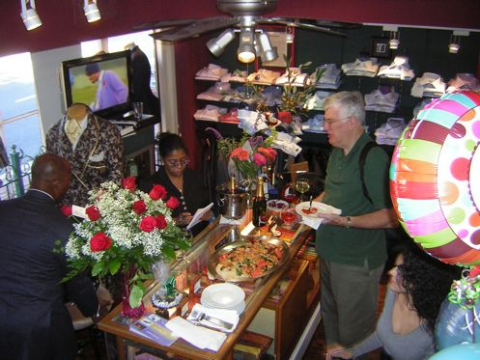 out of anything resembling a vase (gifts from customers). Champagne was flowing. Kir turned glasses pink. A platter of grilled shrimp, rice and peppers beckoned with tantalizing New Orleans steam. It was the kick-off of our fall renewal campaign. Drawing old friends and the uninitiated, fall renewal was in progress. It was a party, people were shopping, and neighbors were stopping by to say hello. Attorney David Harrison, traditionally a Polo Ralph Lauren man, dropped in with Mary Frances Monroe. She wore a weathered jean jacket and a tri-colore silk scarf. Paris, eat your heart out.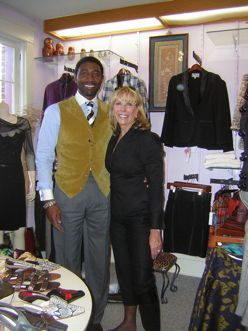 Barbara Schaefer McDuffie and her friends Carol Petren and Stasia Kelly had turned an upstairs wing into a dressing room. Spotlights, mirrors, clothes strewn everywhere. The store had been busy since ten. It was 3:00 pm and hopping. "Candor. Insight. Results." That's what McDuffie's card says. "I do business development," she explained. "I have to look good." Having lived in Paris and London, McDuffie now puts herself into the confident hands of Louie and Jennifer Everard. She brought her friends in after lunch at Bistro Lepic a few doors down.Ron Vitale, an architect, traveled from Shanghai to pick up some tailored shirts. "I could get them made in Hong Kong," he said, "but the fabric here is much better." He sipped from a Starbucks cup, watching the shopping and absorbing the easy-going fun, before a long flight east. "Washington has changed," he said. Upstairs, Karen Heine was trying on killer over-the-knee boots and a close-fitting black jacket
with gold buttons, encouraged by her friend Meghan Mariman. Karen looked like the famous shot of Condoleezza Rice reviewing troops in her military dominatrix outfit, only sexier. She was tantalizing. "I design for women with men's attitudes in mind," said shoe and boot designer Ron Donovan, visiting for the day with his collection. "Every girlfriend I've ever had has said, 'Ron knows how to dress women.'"The Georgetown Dish fall renewal tour aims to raise the profile of Georgetown businesses which have served our community while enhancing our own personal style, beauty and design. We can all use a lift. The economy needs help. And our Georgetown merchants have weathered a roller coaster economy and stuck with us. As friends dropped by, greeted the Everards, and looked at the gallery of wearable style, it was like the holidays, only more fun.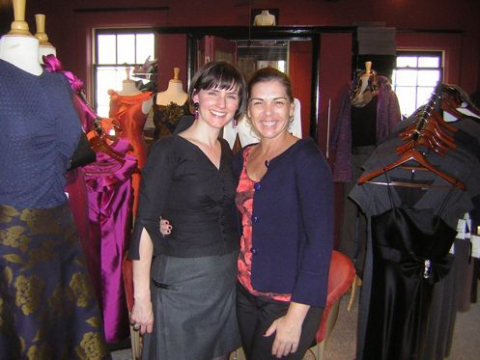 Christine Corbin, a Glover Park resident who has been coming to Everard's for years, came to celebrate the birthday of her friend Jennifer as much to try on something new. She doesn't have to worry about shopping anymore, all she has to do is come and see these friends. Even Rizzo Cumming, already a good-looking pug in Georgetown, wore a bow-tie. Sipped a glass of champage. And celebrated Jennifer's birthday. Salud!