Georgetown House Tour attracts hundreds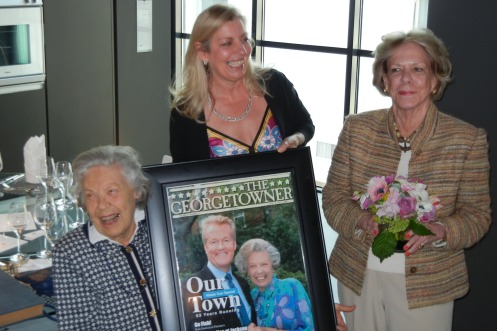 Visitors from all over the world as well as Georgetown neighbors turned out in large numbers Saturday as Georgetown glistened for the 2011 House Tour. Two hours into the six-hour tour, some houses had already seen over 400 visitors, ambling along the neighborhood's brick sidewalks like ornithologists with field guides.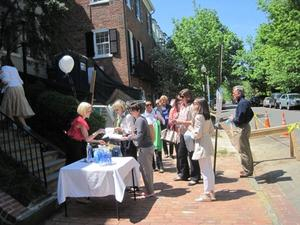 Eileen Reed, a Georgetown resident, said it was her third time on the tour. "I like to get ideas," she said. "I think to myself...'maybe someday'" she could try such designs and architecture in her own house.
Jena Watson, the volunteer tour manager at a home previously owned by Cyrus Vance, said the crowds were definitely heavier than last year. "We're seeing larger family groups," she said. "We're also seeing a lot more guys on the tour, which is great."
Proceeds from the tour support the charitable efforts of St. John's Episcopal Church, including the Georgetown Ministry Center.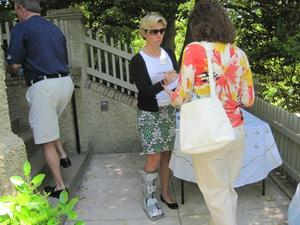 But on this Saturday, the houses were the main event. Man, woman or child -- all the visitors wore the signature blue booties to protect the stunning furnishings on stage. The biggest bootie of all was worn by volunteer Jocelyn Dyer, a St. John's parishioner, who stood checking in visitors wearing a cast to stabilize her badly sprained ankle.
"I want a bootie like yours," one gentleman said.
A few blocks away, a house owned by Alison and Bo Jia had been "re-imagined" combining Victorian and modern Chinese style. Purchased in 2005 as a two-unit apartment building, the owners transformed it into a family home and gallery to display their stunning porc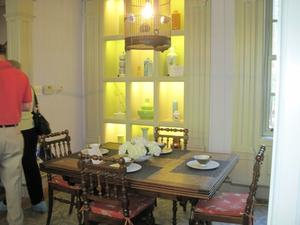 elains, Chinese antiques and collection of original Asian artwork. Bo trained at the China Academy of Fine Art in Hangzhou, while Alison is a graduate in Chinese history with degrees from William & Mary and Harvard.
Middle Kingdom Porcelains designed by the owners are available at Susan Calloway in Georgetown and at Neiman Marcus.
Inspired by the story of the house, docents Patricia Langan and her husband James Figetakis enthralled guests with their enthusiasm for the house and their desire to help visitors enjoy it. "We love this house," said James. It was contagious.
While a pre-White House Correspondents Dinner event took place up the street drawing dignitaries, many of Georgetown's well known residents took in the house tour. The Urban Institute's Michael Horst enjoyed it, he said, at least as much as in previous years. Under Secretary of Natural Resources & Environment for the agriculture department Harris Sherman and his wife Tina Staley took the opportunity to get to know the neighborhood a little better, having moved in last year. "We love Georgetown," Staley said. "Our neighbors are really friendly. They're interesting and eclectic. We're having a blast." Staley is developing psycho-social treatment programs for cancer patients and their families.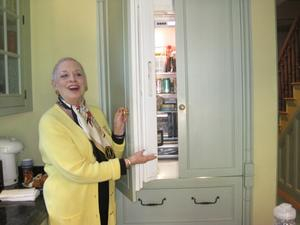 Later, the celebration continued in a hospitality suite hosted by The Georgetowner newspaper and Canal Group Builders where Publisher Sonya Bernhardt and Social Editor Mary Bird led a celebration in honor of Frida Burling, who has spearheaded the Georgetown House Tour for many years. Frida's kind and generous spirit could be felt at every house and in every volunteer. It could even be felt in the crisp spring day that made Georgetown glisten brightly for the Tour. Count on Frida....she works in mysterious ways.