Fly with us Saturday at Georgetown Park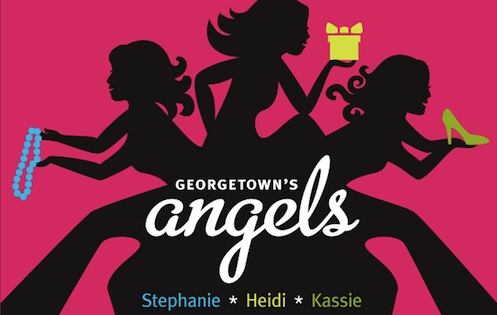 When I was looking to move The Dandelion Patch across the water and into D.C., I chose The Shops at Georgetown Park. Here's why: it has direct access off heavily trafficked M Street in an area of the city long regarded as the shopping go-to destination. It has a spacious parking garage with tons of open spaces – delicious restaurants and a multitude of world class brands under one roof. However, once I opened my store I realized that there is just one problem… Where are all the shoppers?? I wasn't the only mall tenant who was confused… I got together for lunch with a few lovely ladies who happen to be my neighbors in the mall – Kassie Rempel of Simply Soles and Stephanie Fornash Kennedy of Fornash – and as we chatted about the state of our surroundings we realized, we had to do something. We decided to call ourselves "The Georgetown Angels," modeled somewhat after Charlie's Angels. Why? We had to swing into action, for the benefit of our fellow merchants and all of Georgetown. Our mission is to breathe life back into a place we know is a stand-out shopping destination. The mall has merchants and merchandise that you can't find anywhere in Georgetown, and even the Washington area.
The first of a series of fun and fabulous events to demonstrate what we mean will take place within The Shops at Georgetown Park this Saturday, February 12th from noon to 3:00. This (literally) progressive party will begin at my store, The Dandelion Patch, and will progress to Fornash at 1:00 pm and Simply Soles at 2:00 pm. Meet the Angels, shop with discounts, enter to win many raffle items, eat sweets, sip champagne, and support Courage for Kids' backpack program for at-risk-youth. There's more -- we've partnered with fashion-famed Andrea Rodgers of Ask Miss A for a day packed with perks.
Come and discover the secrets waiting for you at Georgetown Park. The Georgetown Angels won't let you down!