First fig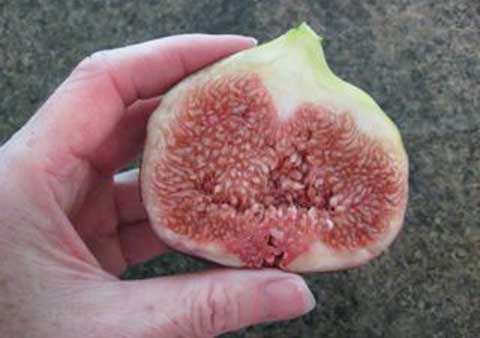 My candle burns at both ends;
It will not last the night;
But ah, my foes and oh, my friends-
It gives a lovely light.
I'm not sure what Norma St. Vincent Millay's poem has to do with a "First Fig", nevertheless I have always loved it. Not nearly as much as I love the first fig of summer from the tree in my garden, however. This year, one fig led the pack early and it looks like it is going to be a banner year for figs. Started from a lowly container plant six years ago or so, last year our tree produced dozens of figs and there is now a bumper crop with approximately 150 already ripening on the tree. It can be hard to explain to neighbors and friends how exciting it is to care for this little tree and the pride I feel when it produces edible fruit, but being a city gardener is so different from gardening in other places. Early in the Spring I had an arborist out to trim some of the old growth trees in our yard and he commented on the "trauma" city trees endure and how hard they have to struggle to survive in the sometimes harsh urban environment.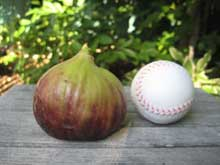 I've lived in the city for many years now, but I still remember the delight I took when this tree first bore a few figs four or five years ago. Not familiar with this type of fruit, I wasn't even sure it was safe to eat them when grown willy-nilly in a city yard. I found them delicious- soft and sweet inside like a strawberry and an aroma like a dusky peach. I now eagerly look forward to their appearance come summer and probably take more photos of each year's first fig than I did of my first child. I'm always jubilant, no matter how paltry the bearing. Each year's harvest has increased and last year for the first time I had to net the tree to protect it from greedy birds and squirrels who ruined the fruit before it was ready by pecking and peeling at the skin, attracting armies of ants, not to mention bees. It seemed comical to be netting one tiny fig tree as if I were running a professional orchard, but the results were amazing. Dozens of gorgeous, deep purple, juicy figs which we mostly ate off the tree first thing in the morning or later in the day warmed by the sun and so sweet and luscious it could bring tears to your eyes. Later in the summer we had ample bounty and began grilling or roasting them and embellishing with drizzled honey, goat cheese and balsamic vinegar. An embarrassment of riches!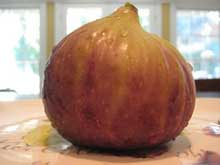 An aspect of our figs which is at once endearing and heartbreaking is that they must be picked and eaten when absolutely ripe and not a minute before (or after). The don't ripen at all once picked and quickly rot on the tree if left too long. They also don't refrigerate well and so must either be eaten or cooked immediately. Leave home for a few days during a ripening streak and you can miss the bulk of your harvest and return to blackening pulp under a tree swarming with flies and bees. This helps to explain why they aren't generally found on local grocery store shelves and I hadn't satisfactorily experienced them before I stumbled upon them in my yard.
Sitting in the shade of my fig tree I fantasize that I'm in an exotic locale like southern Italy or Greece and languidly pluck the fruit that hangs so tantalizingly near and yet here I am, still in Georgetown. And so forthwith I present the first fig of the season and the biggest I have seen to date. A prize-worthy specimen as the photos attest. And yes, I already ate it.