Feeling blue!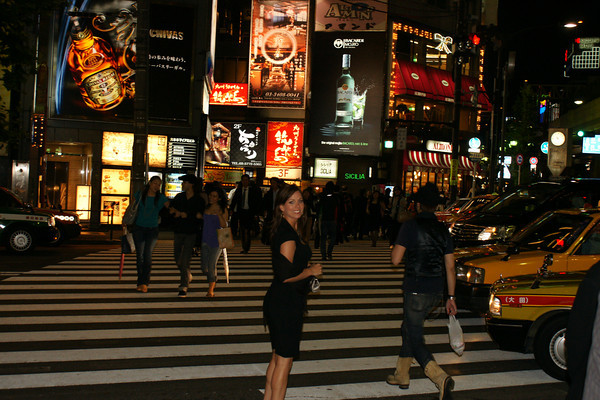 During my most recent trip to Tokyo in 2008, the ladies of the Roppongi district - Tokyo's night club scene - were strutting around in bright colored skinny jeans long before it really hit here in the U.S. But, it's reached our borders and is one of summer's hottest trends - especially the bright blue!
Kim K (above) looks fierce in her bright blue J Brand jeans paired with a simple white t-shirt, a cropped black leather jacket, a black scarf and some funky Louboutin booties adorned with metallics - love this look!
The first question my clients ask me when I simply suggest the skinny jean to them is "will they make me look fat?", and then when I throw in a bright electric blue color it's "what ever will I wear them with?"
Well, truth be told, not many women like the way they look in skinny jeans without a top on, heh! So all you have to do is pair them with longer tops - ones that cover your waist or longer - and when it's cooler perhaps a blazer or a cropped leather jacket. Oh and beware: they should fit REALLY tight, but they WILL stretch, promise! Then as far as what to wear them with, the bright blue goes with more than you think. Easy pairings - white, cream, gray, black tops. Adventurous pairings - coral, bright pink, nautical stripes...you get the picture.
They look great with black, gray or nude heels, booties or boots! The choice is yours - wear them with a bright yellow heel if you like! I just recommend you avoid pairing them with flats if you want to avoid widening your appearance. ;-)
Scoop up your own pair of J Brand bright blue skinny jeans!
J Brand available at Cusp.
Not looking to spend almost $200???
Bright Blue Skinnies available at High Gloss Fashion for $29!
Don't forget to accessorize your edgy look with a killer watch and/or add on some funky bracelets - like these Stella Valle bracelets!
The "Jenny" and "Linda" available at Stella Valle.
Check out MyDCStyle for more outfit ideas for your bright blue skinnies!
XOXO
~MyDCStyle