As Easter holiday approaches, Washington Harbour still not open for business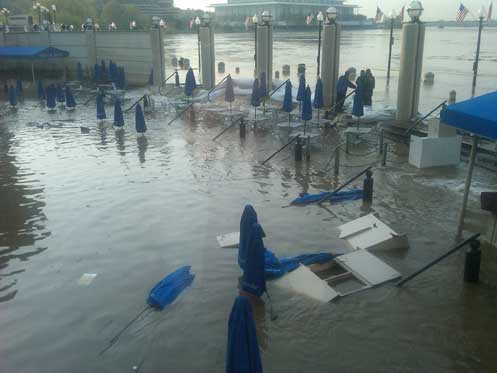 Extraordinary damage was inflicted on Washington Harbour on the Georgetown waterfront in a few hours on Monday morning as the Potomac River poured unimpeded into its restaurants, businesses and parking garage. Apparently, MRP Realty, the management company in charge of the popular and financially-thriving complex, failed to raise the flood wall needed to protect against the periodic flooding of the Potomac. A D.C. official termed the situation preventable.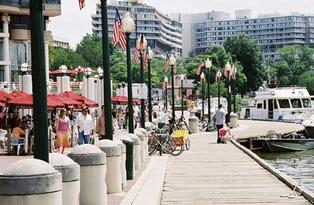 The clean-up operation started almost immediately, but the complex is not expected to reopen this weekend. PEPCO was still working to restore power on Wednesday.
The lawsuits have begun, the most recent being a $5 million class-action against MRP brought Thursday by a bartender from Farmers & Fishers Restaurant. Filing attorney Gary Mason said, "There was plenty of warning that the Potomac River was rising. There were flood warnings that were issued, and this is something that for 30 years, the history of that complex has been done time after time." The suit is filed on behalf of the potentially hundreds of people who work at Washington Harbour to recover lost wages.
Reponse from MRP Real Estate Services:
"We continue to make significant progress reinstating full operations to the property as more than 100 workers continue to work around the clock.
We expect that overall clean-up of the property, and the removal of all floodwater from both garage levels and the fountain area, will be completed by the end of the weekend. We are providing temporary parking for the affected tenants and residents while we paint and prepare the garages for access.
We are working in tandem with PEPCO to restore power to both buildings. For the immediate term, we will utilize temporary generated power while we make the repairs to the buildings' main electrical system/service."
We expect to have power (lights and receptacles) to 3000 K St. by the end of today and to 3050 K St. by noon tomorrow.
We are working diligently towards our goal of readying both buildings for occupancy with full power and HVAC by Friday morning and will confirm this timing as we proceed."