D.C. civic leader hosts Chinese delegates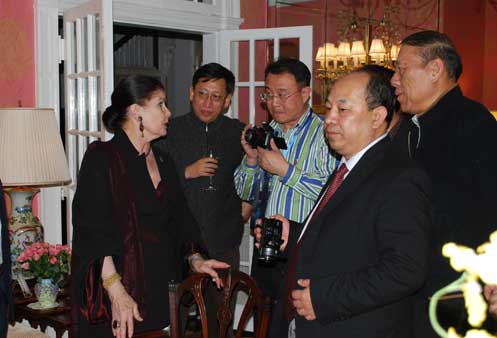 Part of the official delegation accompanying the state visit of Chinese President Hu Jintao to the United States dined late Tuesday night at the home of DC civic activist and arts leader Judith Terra.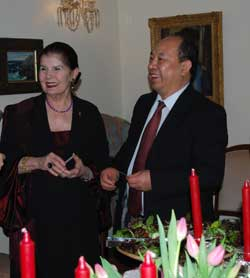 The event, attended by 15 delegation members, was arranged by Zhigang Chen, a member of the China Government Delegation and president of Digital Image Technologies Inc., which has offices in Redwood City, California, and Beijing.
"I have known Zhigang for some years now," Terra said. "And I am privileged to host him and his colleagues on this special occasion." Delegation members represented top investment groups, the food industry, steel, technology and other enterprises in China.
During her welcoming, Terra presented Zhigang Chen with a "One City" lapel pin, which is the slogan for new DC Mayor Vincent Gray.
Terra co-chairs Gray's "Creative Economy" transition committee, which seeks to bring more jobs and business opportunities to the District of Columbia through expansion of the arts, culture, fashion, media, entertainment and related endeavors.
Terra is the widow of Daniel Terra, who was President Ronald Reagan's Ambassador at Large for Cultural Affairs at the U.S. State Department. She has traveled extensively throughout China for business development and to study the culture. Terra, a former resident of Georgetown who now resides in the Crestwood section of DC, guided the group through her collection of antique Chinese vases, lamps and artwork
Among the dinner guests at the Terra home was Edward Dobranetski, a vice president of Chevy Chase Trust, Elizabeth W. Delo of Bessemer Trust, Junxue Chu of the World Bank, and Virginia E. Hayes Williams, the mother of former mayor Tony Williams. The former mayor is on Gray's economic team.