Councilmember Cheh will have her say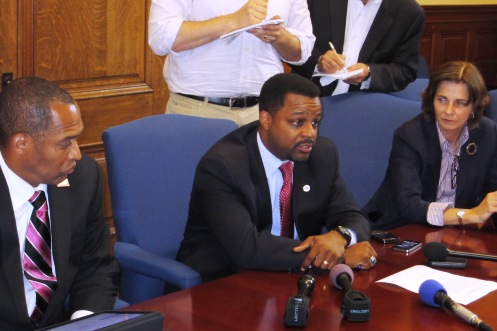 In the musical Evita, during the song "the art of the possible", Juan Perón and a group of other military officers play a game of musical chairs which Perón wins, symbolizing his rise to power.
In this once-popular party game, when the music stops, someone can't find a chair. That person is out of the game.
This week, Council Chairman Kwame Brown pulled the plug and left the boy-scoutish Councilmember Tommy Wells without a chair, so to speak, stripping him of his chairmanship duties related to transportation and public works, a significant portfolio for influencing the city and building a District-wide constituency.
The clear winner is Ward 3 Councilmember Mary Cheh. She was picked by Brown to be the new head of the expanded, and thus even more important, committee on the environment, transportation and public works. This new position, together with being chair pro tempore for the entire Council (replacing Councilmember Jack Evans), not only cements her already strong relationship with the now more powerful Chairman Brown, it further enhances her overall position as a council leader. Cheh has been known as an earnest, good-government legislator. Very popular with constituents, she has walked down legislative roads usually not taken -- proposing a soda tax, for example, and championing animal rights. But in this case, more power could be too much of a good thing. Cheh will have to be careful that her political godfather Chairman Brown does not get further tarnished by ethical problems. There are federal and local inquiries into his campaign finances as well as the continued ridicule over the fully-loaded SUVs. Already, the Washington Post editorial page has characterized her as "Mr. Brown's enabling loyalist." Secondly, how will Cheh deal with Wells' growing granola constituency that loves the Eagle Scout and opposed the council shuffle? Cheh told the Post: "[Livable, walkable], that's a slogan. ...Where's the record?... I've passed major legislation. I'll say 'livable, walkable.' If I say it enough, will that be OK?"). Let it be said: the two-term councilmember does have a smart growth track-record pro-bike track record. Indeed, she is often seen tooling around on her bike. Overall, Cheh has shown herself to be an adept politician, able to handle these kinds of challenges. Not only has she risen in the council and accumulated more power, nobody is questioning her personal ethics or behavior. She was handily reelected last year even though she courageously broke with former Mayor Adrian Fenty, who was extremely strong in Ward 3, to endorse then Chairman Vincent Gray for mayor. Unfortunately for Cheh, however, her success may depend somewhat on his. Mary Cheh has grown in ability and stature during her tenure on the Council before her anointment by Chairman Brown. But before the music stops, as UT football coach Darrell Royal said, you might have to dance with the one that brung you.