City-wide coalition slams Georgetown expansion plan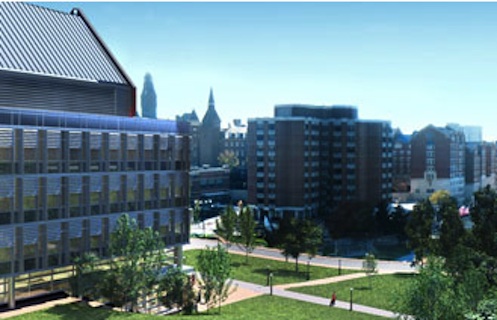 A new city-wide coalition of neighborhood groups has joined the campaign to oppose Georgetown University's controversial expansion plan while student groups organized on Facebook and set up shuttle bus service to support the University's plan in the run-up to tonight's first city-wide hearing.
On the eve of the Zoning Commission's first public review of the 10-year expansion plan, the District-Wide Coalition of University Neighborhoods (DCUN) issued a statement saying, "The proposed Georgetown campus plan is an example aggressive University growth that if implemented will diminish the quality of life for the surrounding communities."
The coalition's leadership includes representatives from several areas impacted by campus growth, including Jacqueline Meers (Spring Valley, American University), Phillip Blair Jr. (Brookland, Catholic University), Asher Corson (Foggy Bottom, The George Washington University), Tony Norman (LeDroit Park, Howard University), Cynthia Pantazis (Georgetown, Georgetown University), Mary Pat Rowan (Brookland, Catholic University), and Nan Wells (Spring Valley, American University). Pantazis serves as Chair of the GU Relations Committee for the coalition.
"While the District is fortunate to be home to many large Universities, these Universities also present unique challenges to the neighborhoods in which they reside. These challenges include overwhelming density and growth, traffic congestion, disruptive noise, and safety issues. DCUN has formed to coordinate among all affected communities and advocate for sensible policies that protect University neighborhood," the statement said.
Meanwhile, an organization called DC Speaks recruited 41 students on Facebook to attend the hearing, offering shuttle bus transportation from the University. "A vocal minority should not decide the fate of our campus plan," said the Facebook event site. "A FREE bus shuttle will be leaving from the bus stop near the Jesuit Residence and SQW at 4:30 PM and will return at the end of meeting. Anyone wishing to reserve a spot on the bus has to fill out the google form above. Only those who reserve spots will be able to get on the bus because of limited space. For those with class or other commitments, a group will be leaving from the front gates of Georgetown at 5:45 PM."
But the Facebook page also included a fierce opponent of the University's plan, community leader and author Stephen R. Brown. "I will be there," he wrote on DC Speak's page.
On a Georgetown listserv, CAG Vice President Betsy Cooley urged Georgetown residents to attend a D.C. Zoning Commission hearing Thursday evening at which the University will present its plans. "We need to show how many residents feel strongly that the neighborhood is and will continue to be impacted negatively," Cooley wrote.
"While academic excellence is critical for a top national university, it should not come at the expense of safety, increased traffic and increased density that threatens to further cripple the community," said Burleith Citizens Association President Lenore Rubino in a joint statement with other groups.
Zoning Commission hearings on the GU Campus Plan are scheduled for April 14, May 12 and May 16. Thursday's hearing will take place at the DC Office of Zoning at 6:30 pm. The office is located at 441 4th Street NW, Suite 220-S (Judiciary Square Metro).