Cheh says she'll testify against Georgetown University plan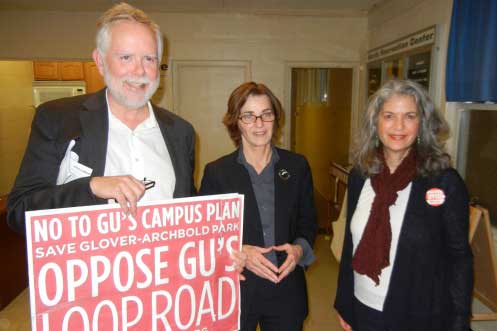 Councilmember Mary Cheh (Ward 3) said she would testify against Georgetown University's proposed expansion plan in Zoning Commission hearings this spring, after the Foxhall Community Citizens Association voted unanimously to join counterparts in Georgetown and Burleith as a "party in opposition" to the expansion plan.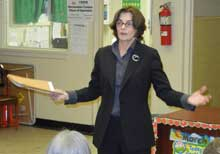 Cheh said that she had two large problems with the expansion plan: the proposed loop road that would intrude on residential Foxhall and the increase in graduate students and where they would be housed.
Councilmember Jack Evans (Ward 2) reiterated his position in support of citizens groups and the Georgetown ANC, but said he would "absolutely not" testify before the Zoning Commission. "We are part of the confirmation process for Zoning Commissioners," Evans said. "I don't think we should testify in these matters. It's inappropriate for a Councilmember."
Evans has called for the University to provide on-campus housing for 100% of undergraduates.
Regarding the proposed loop road, Cheh quoted her February 10 letter to the University. "I find it perplexing for the University to state that the only way to allow its shuttle busses to turn around is to construct a loop road along the western edge of its campus. " Cheh then pointed out alternative turn around oppostions that didn't impact Glover-Archibald Park and "direct traffic into the view of Ward 3 residents and cause noise, air, and light pollution each day from before dawn and very late in the evening. "
In the letter, Cheh also requested more information on how growth of the graduate student body would increase the transient student population residing in Foxhall. Cheh said that the universities create a poor student/residential relationship when they "don't have adequate capacity" for expansion and then expect the surrounding neighborhoods to pick up the slack.
Resident Stephen Brown asked why the Council voted to give GU access to D.C. revenue bonds. Cheh agreed that it wasn't something the District had to do, but it did give nonprofits the ability to borrow money at the lower District rate. She agreed that withholding access to the District's bonds could be a point of leverage. Cheh also discussed the possibility of receiving payment in lieu of taxes (PILOT) from the universities.