Candidates spar at first-ever Safeway forum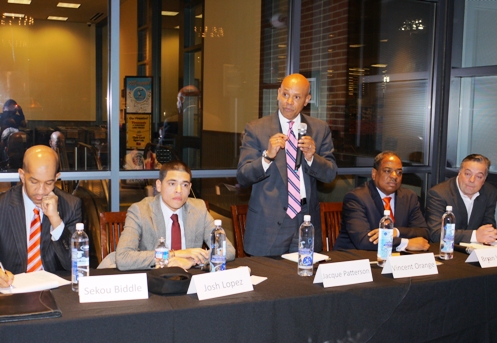 The Georgetown Dish and The Georgetown Current co-hosted a forum Wednesday at the Social Safeway on Wisconsin Avenue for candidates running for the At-large D.C. Council seat up for grabs in a Special Election April 26, a first-ever event for the national chain and the first D.C. candidate forum held in a Safeway.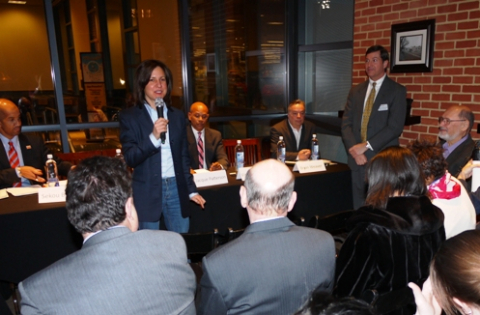 The Georgetown Dish will provide comprehensive coverage in further posts, but the verdict on Wednesday's debate was that the top five candidates are in a spirited contest with no obvious leader as yet. Jacque Patterson, a Desert Storm veteran and Ward 8 ANC Commissioner, distinguished himself by calling for the resignation of Alcohol Beverage Control Board Chairman Charles Brodsky, who has caused controversy throughout the city with what some call an anti-neighborhood bias on alcohol issues and charges of conflict-of-interest due to his private business interests.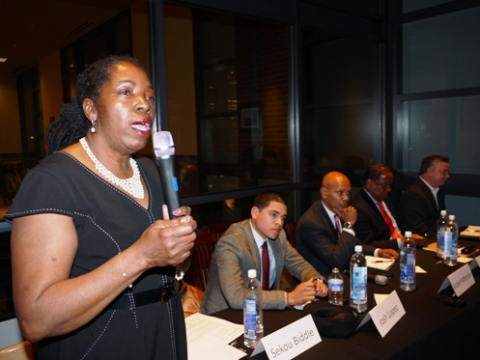 While Brodsky yesterday recused himself from the Board's decision on George -- a Georgetown nightclub which seeks to lift noise and capacity restrictions on its current alcohol permit -- candidates Sekou Biddle, Joshua Lopez, Patterson, Vincent Orange and Bryan Weaver criticized the conflict presented by Brodsky's private and public roles, some using the word "inappropriate."
Ousted Hardy Middle School Principal Patrick Pope -- who attended the forum across the street from his now troubled school -- received loud cheers and applause from the audience of 100+ when he was recognized for building the school into one of the city's best. "Getting into Hardy for people I've known was like winning the lottery," said Bryan Weaver of Ward 1. "We love Patrick Pope," said former Councilmember Vincent Orange, whose three children attended schools with Pope as a beloved principal and mentor.
All the candidates expressed support for Pope's return to the school, saying he should be allowed to re-apply for his old job after months of rotating principals, disciplinary problems, and turmoil. "It's a mess," said Lopez of Hardy.
Safeway's Greg Ten Eyck and store manager Phil White provided a generous buffet and refreshments in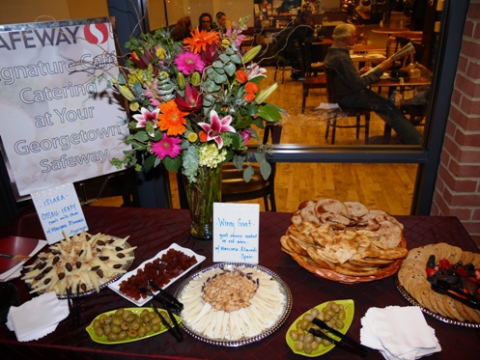 the store's cafe. The newly-built Safeway meets the highest green building standards and has become a hub for patrons seeking a cup of coffee or full-service catering.
Solomon opened with the two Lincolns question -- Navigators, that is -- and how many cars each owns and the last time they took public transportation. With the exception of car-less Lopez and Weaver, whose family owns one car, all said they own two cars and recently took public transportation.
Kennedy asked if they supported a tax increase to balance the city's budget. Lopez said yes -- 1%. Orange: no increase. Weaver: streamline government, bundle corporate income tax.
Regarding Georgetown University's proposed expansion, all candidates opposed the current University plan. Most criticized GU for its treatment of the community.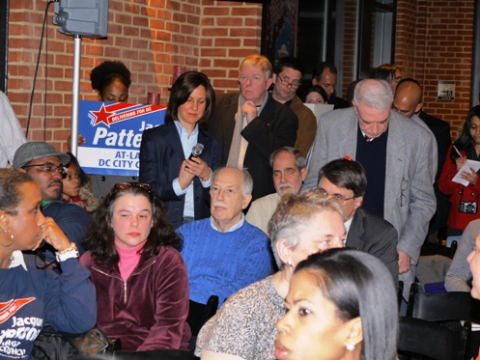 Asked to name their favorite movie and the last movie they saw, candidates caused laughter by admitting that their selection has been affected by their small children. "I haven't seen anything that wasn't Pixar or animated in six years," said Weaver. He said Milk, the story of San Francisco Harvey Milk, was his favorite film. Biddle's last movie was animated too, due to his children. His favorite, he said, was Star Wars, which he watched at the Uptown cinema. Lopez last saw Black Swan, but his favorite is Motorcycle Diaries -- which followed the life of activist Che Guevara.
Patterson's favorite was The Color Purple, which he saw with his mother before she died. Orange recently saw Unknown, a crime thriller starring Liam Neeson. His favorite film, he said, is Defiance, directed by Edward Zwick.
One clear winner of the evening was Councilmember David Catania (At-large). All of the candidates said Catania is their "favorite Councilmember," with the exception of Vincent Orange, who named Jack Evans (Ward 2). Weaver also praised Tommy Wells (Ward 6).