Bringing Back The Brooch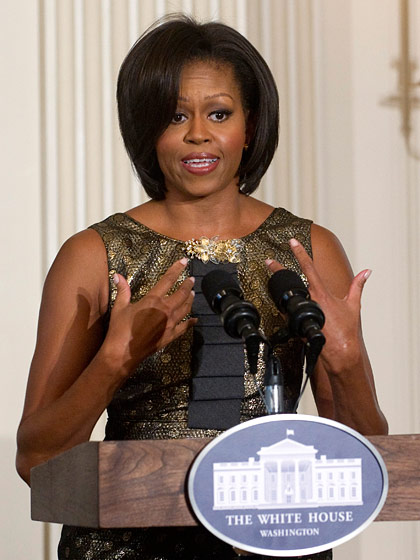 In an effort to break away from the norm and expand my horizons, I've decided I want to bring back the brooch! It's a great way to add a touch of glamour to your look and is truly a classic piece every woman should have in their jewelry box!
The First Lady, Michelle Obama, shows us how to rock a brooch, as seen above rocking a Miriam Haskell statement brooch of vintage gold filigrees, glass pearls and Swarovski crystals.
Image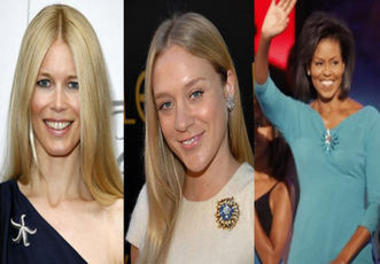 The First Lady has been setting trends since she stepped in to the White House, with her classic JCrew style pairing a pencil skirt with the button-down and a cardigan with a skinny belt on the outside, and now she's rocking brooches left and right!
Part of the reason I think the brooch is a fantastic must-have accessory is because besides from being a timeless pieces, it's something that people will discuss more at a party than say your ring or earrings or necklace, a brooch is truly a statement piece of jewelry. It's also worth investing in a high-end brooch as this is the type of jewelry you will pass down generation to generation.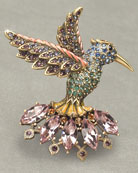 What do you wear them with, you ask? Wear it with a dress as seen above or use it to clip a pashmina or scarf you drape around your shoulders or around your neck. Throw on a wrap dress and pin your brooch at the hip or pin it on the outside of your coat. Make it your own style because you can truly never go wrong with such a classic and elegant accessory.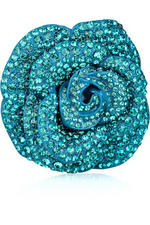 You can find your brooch at any fine retailer - like the pictured bird brooch by Jay Strongwater, available at Neiman Marcus - or even at Forever 21! It all depends what you're looking to spend and if you want it to be a forever keepsake or disposable. The brooch to the left is fabulous because it's a bright, jewel-toned color and would go with so many colors, is by Valentino and available at The Outnet.
I recommend hitting up antique stores and consignment shops first in your search since sometimes you can find the most spectacular hidden gems in these places!
Have fun finding your statement brooch and glammin' it up and visit Bringing Back the Brooch on MyDCStyle to read more on the brooch trend!
XOXO
~MyDCStyle