Alcohol board asked to scrap restrictions on nightclub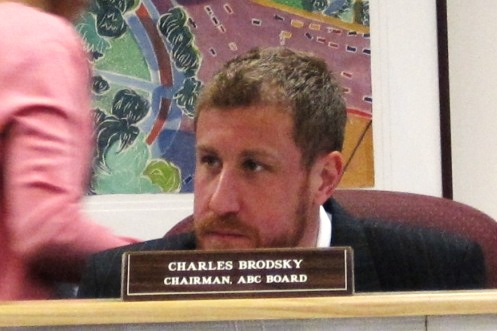 In a heated, three-hour continuation of a hearing that started last month, the Alcohol Beverage Control Board wrestled with the bold request of George -- a part-time nightclub tucked into the same block as Café Milano and houses and condominiums on Prospect and N Street -- to scrap the so called "Voluntary Agreement" section of its liquor license that limits the club's occupancy numbers, noise level, use of outdoor space abutting residential areas and type of entertainment.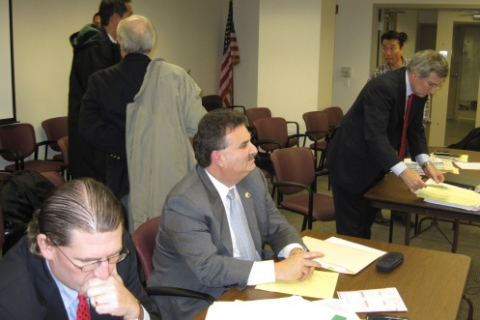 Stating that economic conditions necessitate throwing out the Agreement in order for the club to survive, George co-owner Ki Jun Sung presented signed form letters gathered from Club patrons and a survey of nearby parking options to argue that George has many patrons who support its existence and that the parking supply is more than adequate for the growth in business the club seeks. The new owners acquired the Voluntary Agreement when they bought the liquor license from Georgetown Billiards, which occupied the space previously.
The license has a requirement that the establishment generate 45 percent of its sales from food, or $2000 in food sales per seat each year. While the license assumes that the establishment serves food like a restaurant, the owners said it has no stove, pots or pans. "We have a microwave," Sung said, describing a menu of quesadillas, tacos and chicken pot pie that is served just Thursday, Friday and Saturday nights when George is open. Sung said that half of the food served at George is brought in by caterers for special events that take place "one or two times a month."
Whereas the legal definition of a restaurant includes being open to the public, Sung said that George is open Fridays from 6:00 to 9:00 to anyone, but that every Friday and Saturday night "it's a private party" with entry restricted to those on a list, plus their friends. Sung said most of George's revenues come from alcohol sales between the hours of 10:00 pm and 3:00 am.
"It's difficult for me to get my hands around the concept that George is a restaurant," said ABC Board member Mital Gandhi. "It's a real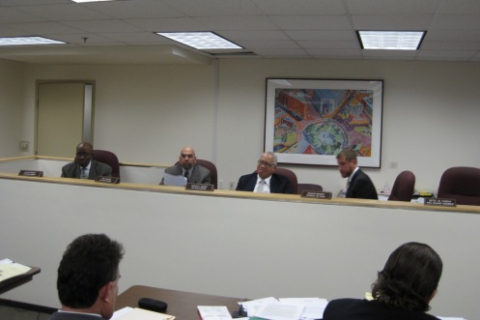 concern that I have. I am trying to understand if [by terminating the Voluntary Agreement] you are just trying to serve more alcohol."
Board member Nicholas Alberti also sought to clarify what direction George might go in if the Voluntary Agreement restrictions (originally written and approved by George attorney Andrew Kline when he represented the previous owner of the license) were dumped.
"Our business model would remain the same. But we would have live entertainment, be able to use the courtyard, and increase our capacity," Sung said. He said nullifying the Voluntary Agreement would also enable George to stay open later on holidays.
But Edward Emes, a neighbor, told the ABC Board the current restrictions on George may not be enough to maintain the livability and stability of a block that is also home to residents in adjacent houses and condos. "There has been a tremendous increase in occupancy in that complex" that now includes Neyla, Café Milano, Morton's, Bankok Bistro, Peacock Café, plus a theatre. Citing noise, trash volume, and lack of parking, Emes said, "We're overloaded."
"Things run wild and it inflicts itself on everyone else. There has to be a limit," Emes said.
ANC Commissioner Bill Starrels, who has served in Georgetown for over 10 years, said the underlying idea of Voluntary Agreements is not to arbitrarily impose restrictions, but to allow alcohol establishments to co-exist with others in a way that preserves quality of life for all.
ABC Chairman Charles Brodsky dismissed the ANC concerns as "hyperlocal." Calling the District's 1700 Voluntary Agreements a "deviation" from the city's laws, Brodsky said "every hour" that a business like George is closed represents "$300,000 of lost business in the city."
Board member Alberti pointed out that George's Voluntary Agreement does not restrict its hours of operation.
Legal experts have joined D.C. Councilmember Phil Mendelson (At-large) in questioning Brodsky's dual role as ABC Chairman and private event promoter. His businesses, the Nation's Triathlon and the D.C. Triathlon -- frequently have matters before the Georgetown ANC -- what some say constitutes a troubling conflict of interest.
"It's a very legitimate concern -- this conflict situation," Mendelson told The Georgetown Dish.