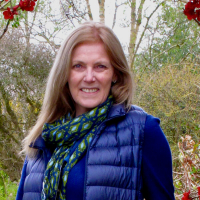 Gwendolyn van Paasschen
Gwendolyn van Paasschen is a garden designer and writer with extensive experience in the non-profit world. Having worked with internationally renowned British landscape designer and author John Brookes MBE on a major multi-year project in Upstate New York, she helped him write his memoir, A Landscape Legacy (Pimpernel Press, 2018), and now serves as chairman of the John Brookes-Denmans Foundation (JBDF) which she co-founded in 2017. The JBDF is dedicated to perpetuating John Brookes' design legacy and to the renovation and preservation of Denmans Garden, his garden in West Sussex.
She currently owns and runs Denmans Garden which includes a plant center and retail space. She is also a contributor to the Georgetown Dish, daily news and entertainment site, writing occasional articles about gardening and garden design.
Ms van Paasschen has compiled and edited How to Design a Garden, a forthcoming book of writings by John Brookes, published by Pimpernel Press (October 2021), and has organized and helped compile and edit a forthcoming book, An Economist's Outlook, Essays by John H. Makin from a Transformative Era. She is a member of the Advisory Council of Hostage US, an independent non-profit organization that supports hostages and their families both during and after a kidnapping. She is also on the American Trust for the British Library (ATBL) Board of Trustees, on the ATBL's Executive Board, and is the past president of Kids Empowered by Your Support (KEYS), a Connecticut-based nonprofit that provides free music lessons to under-served children in Bridgeport, Connecticut. Ms. van Paasschen began her career in Washington DC as a US Senate legislative assistant to Senators Slade Gorton and John McCain on economic issues.