Zoning Panel Quickly Backs GU Plan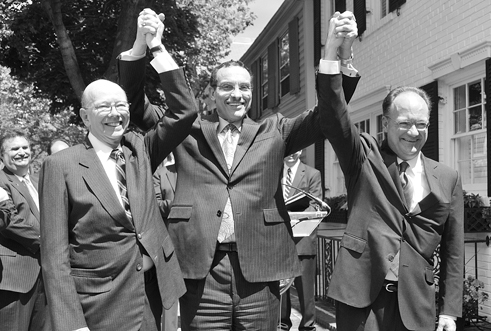 By Brady HoltCurrent Staff Writer
To Zoning Commission chair Anthony Hood, the Georgetown University campus plan wasn't perfect. If it were up to him alone, he said at the commission's meeting Monday, a few things would be different.
In a normal zoning case, commissioners are typically inclined to send applicants back to make tweaks, especially when the case lays out everything a university will do or change on its campus — including enrollment, student conduct policies and development projects — over a number of years.
But in this instance, said Hood, the campus plan that came before the commission was the result of meaningful compromise among the university, its neighbors and city agencies — the sort of dialogue the zoning panel regularly requests in contentious cases, to little avail. "I really don't even want to touch it," Hood said, "because this normally doesn't happen."
Hood and his colleagues took just 45 minutes to approve the campus plan, which retains the existing undergraduate enrollment cap of 6,675 while promising to house at least 450 more of those students on campus through 2017. The university and community will use the next five years to work out a plan that will keep the school from needing further zoning approvals before 2037, except for details of individual building projects.
"We've never done a campus plan in less than an hour ever, ever," said Hood. "I'm going to be talking about this for a long time, the agreement that was made over at Georgetown."
University officials and residents of Georgetown and Burleith had clashed for months at Zoning Commission hearings while the panel weighed how much the school could be expected to reduce the impact of students renting homes in the communities. Many nearby residents wanted all or nearly all undergraduates to be housed on campus or in satellite locations; the university introduced measures it said would address the noise and litter problems often attributed to students.
Under the compromise plan, developed in hours of meetings over a series of weeks earlier this year, the university will house 90 percent of undergraduates on campus by fall 2025 — fewer than neighbors had requested, but more than school officials had initially offered. The school will also add on-campus activities designed to encourage on-campus rather than off-campus revelry, and work toward developing a satellite campus.
The plan was jointly submitted last month by the university, the Georgetown advisory neighborhood commission, the Citizens Association of Georgetown and the Burleith Citizens Association.
"I will say that I was not expecting this substantial, successful result," said zoning commissioner Peter May.
"To see the neighborhoods come together like this is just wonderful," added commissioner Michael Turnbull.
In their own effort to expedite the process, zoning commissioners approved a "further processing" application for an expansion to the Leavey Center that would add 135 beds of housing on top of the new 250 beds that can be accommodated in the existing building.
The university had believed that because of its relatively small scale, the addition wouldn't need that further processing step. But although zoning commissioners disagreed, they crowded around a single copy of a document the school produced during Monday's meeting, rather than requesting that the school return to a later meeting.
Zoning commissioners also quickly rejected requests from the Palisades/Foxhall advisory neighborhood commission that the school be prohibited from purchasing property on MacArthur Boulevard and that university traffic not be allowed to turn left onto Canal Road during rush hour.
"We were certainly pleased that the Zoning Commission formally approved the agreement that we worked very hard with our neighbors and the city to develop," university spokesperson Stacy Kerr said in an interview after the decision, "and we look forward to immediately implementing it."
This article appears in the July 18 issue of The Georgetown Current newspaper.