Zoning Panel Denies Campus Plan Fast-Track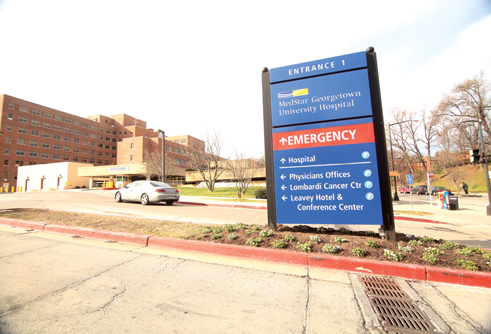 By Brady HoltCurrent Staff Writer
Georgetown University and its neighbors have worked hard to form a collaborative campus plan, crafting a compromise agreement prior to the school's zoning application with an eye toward easing the approval process.
But on Monday, the D.C. Zoning Commission — burned by too many fiery campus plan battles in the past — turned down a request that would have expedited part of the plan's finalization, concerning the MedStar Georgetown University Hospital.
The university, with community support, was asking the commission to simultaneously consider two aspects of its campus plan application: the full plan, which broadly covers the university's development and operations over the next 20 years; and a "further processing" decision that would allow actual construction to proceed immediately on a long-planned addition to the hospital. The latter reflects specifics about the new building rather than just the general outline included in a campus plan.
The Zoning Commission has previously granted campus plan and further processing applications concurrently, notably to American University. But community opponents around that Ward 3 school said the commission had approved too much without granting adequate time for review, and they successfully lobbied for a rule change — which just went into effect last month as part of a broader zoning regulations rewrite. Now, universities can apply for further processing only after their more-general campus plans have won approval.
Georgetown University sought a waiver of those rules, saying all parties would benefit if the agreed-upon plan can advance as quickly as possible.
Universities in residential areas are required to periodically file campus plans that demonstrate their operations aren't unduly burdensome to their neighbors. Georgetown's long-term plan includes bringing more undergraduate students onto campus while increasing graduate student populations. For the shorter term, the campus plan also covers construction of the hospital's new medical/surgical pavilion — a 477,000-square-foot addition on the building's east side, and the replacement of remaining surface parking there with green space.
The request to waive the filing rules had won support from Advisory Neighborhood Commission 2E (Georgetown, Burleith), the Citizens Association of Georgetown, the D.C. Office of Planning and others. But zoning commissioners were wary on Monday.
"I don't really care for putting regulations into place and then throwing them out the window right off the bat," chair Anthony Hood said.
Commissioner Robert Miller countered that the authority to waive rules exists for a reason, such as this example of consensus. "They all worked years on coming together on their 'kumbaya' moment," he said. "I think that collaboration should be rewarded."
Miller added that it's also more efficient for both the Zoning Commission and the Georgetown stakeholders to attend one set of hearings, rather than hold separate sessions for the campus plan and the hospital's further processing.
But commissioner Peter May argued against rushing. "Going into this, we really don't know whether there will be issues or not," he said. "It also has to do with our ability to digest it and make thoughtful and correct decisions."
May also questioned the benefits of acting quickly. "If there really is the level of community support that the applicant believes there is, then it will proceed smoothly," he said. "And yes, it will set them back by a couple of months, but it's going to take a long time for them to build this thing and maybe they can make it up on the back end."
A zoning hearing on the campus plan — without the further processing of the hospital project — is now scheduled for Dec. 1.
This article appears in the Oct. 19 issue of The Georgetown Current newspaper.