Your UberTAXI is Here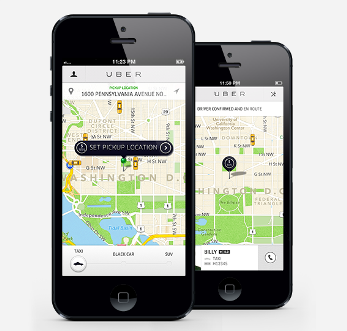 Until now, it was either a taxi ride or Uber. Just like their black car and SUV service, you can now call up UberTAXI on your Uber app. As the company says, "In a nutshell, Uber TAXI offers the reliablity and convenience you can expect from Uber at a lower cost, so you can pick exactly what kind of ride you need, whenver you need it."
Ready to try UberTAXI? Please keep these things in mind:
Supply will be limited at first.Many taxis don't fit Uber standards, so we are curating our supply pretty carefully.
Black car will remain the default.To request a taxi instead of a black car, be sure to select TAXI in the Uber app, then request as usual.
Once you get in the car, your driver will start the regular taximeter.At the end of the trip, your driver will input the fare into their Uber iPhone, including all tolls and surcharges that would normally apply for a DC taxi ride. This also includes the $2.00 dispatch fee, standard for any dispatched DC taxi.
Like any Uber ride, you don't need to pay the driver directly.All charges will go to your credit card on file.
A 20% gratuity will be added to your fare.This will be done automatically and charged to your credit card, exactly like a black car Uber ride (and unlike any taxi ride you've ever taken here in the District!).
At this time, TAXI will only be available for pick-ups in the District.If you are in Virginia or Maryland, stay tuned for updates about when UberTAXI will be available to you.
Requesting via text message? Head to m.uber.com to request a taxi.
Don't need a taxi?You can keep using all the same sedan and SUV options exactly as before.
You can sign up for Uber right here.