You know his work: his name is Stephen R. Brown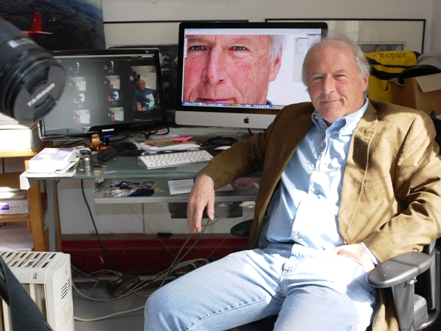 Those indelible war images in U.S. News and World Report, iconic travel shots in National Geographic books and Smithsonian magazine, and portraits, lots of portraits, from presidents to pandas for Newsweek, Life and People. That one of Washington Post publisher, Katherine Graham in Newsweek, and those stunning close-ups of mating bees for Life, they're all his.
For 35 years, Stephen R. Brown has been traveling the world on photo assignments for news organizations, the travel industry, book publishers, and advertising companies from the place he calls home, Washington D.C. So it isn't surprising that when this writer turned photographer turned book publisher chose subjects for his first three books, they were all local.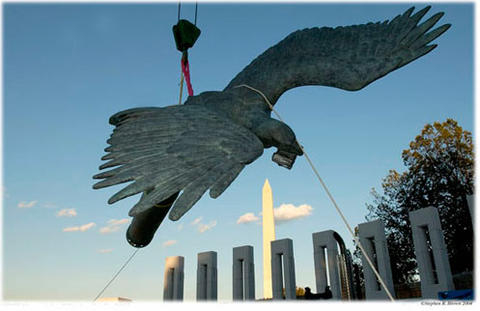 Construction began on the World War II Memorial in 2002, and for Brown, it was the beginning of a two year project, "an opportunity to document from ground zero. " Over 15,000 images were taken while photographing the construction. The one above was "double truck" published in May 2004 Smithsonian. No other photographer was there to capture the scene as sculptor Ray Kaskey installed his bronze eagles holding laurel wreaths. Of course, having access to the construction cranes helped, and a friend in Bob Dole to secure access and maintain those unique vantage points during those many months. In the end, Brown's photographs remain the only record, an exclusive look at the making of a national tribute to the American men and women who fought in World War II. And for the aging veterans who made the trip to see it, Brown's WWII Memorial:Jewel of the Mall is a poignant memento. His ongoing blog on the WWII Memorial records visitors to the Memorial over the past five years.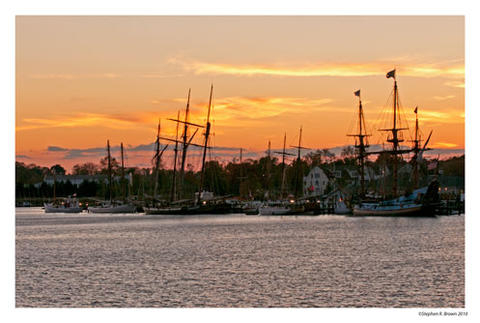 Another endangered species, the watermen of Chesapeake Bay and the oysters they farm are central to Brown's newest book, Tidewater: The Chesapeake Bay in Photographs. He explained, "Its living history, this birthplace of America. There was a time when there were so many oysters that in three days they filtered the entire bay". No more. "And the craft of boat building, also dying". Many of Brown's photographs, taken over 30 years hang in local museums, and now, in this exquisite travelogue.

"I've always been fascinated by Washington, D.C. It's a beautiful place." says Brown. In fact, his first assignment for The Washington Post in 1976 was a photo essay on bike riding along the C&O Canal from Georgetown to Cumberland. Every visitor to Georgetown has tried to take this shot of Washington Harbour.
Intended as a high quality tourist book, DC Photo Book: An Insider's View of Washington, D.C., is that and more. Comprehensive, with all the major museums (look for the brand new Martin Luther King Memorial in the next printing), it also contains many exclusive shots of the Nation's Capital captured over 30 years.
"Photography is 90% furniture moving and 10% serendipity". That's how legendary portrait photographer, Arnold Newman saw it. Ask Brown and he'll add, "Sometimes it takes a long time to get the shot". Thank you, Stephen for giving us all those iconic images we take for granted.
For more information and a peek at this remarkable photographer's work, visit: www.stephenbrownstudio.com