You Are Getting Sleepy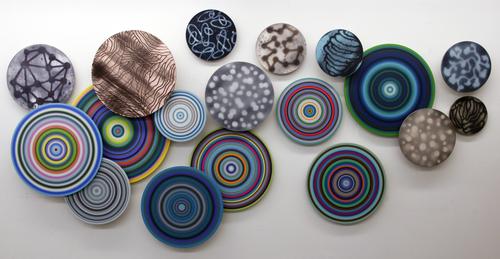 Through May 28, visit Addison/Ripley Fine Art to see the work of Dan Treado.
Seeing Treado working you will be strongly reminded of the 1967 collaboration between engineers Billy Kluver and Fred Waldhauer and artists Robert Rauschenberg and Robert Whitman, Experiments in Art and Technology (E.A.T.). The playful merger of science and art, the genuine delight in tools and methods and the shared interest in performance art and experimental music are hallmarks of the artist overall studio ambiance that underly the making of these sophisticated new works.
From the title of this show, You Are Getting Sleepy, visitors are placed on notice that the arist's quirky humor is in control. The machine drawing inspired works ripple with contained and implied energy. In finely tuned combination they work in macro and micro mode, constellations in orbit around a star or sub-atomic scale particles in close, fixed orbit around one another. Treado calls these cyclotronicals but more than anything else the works seem reflective of the artist's Weltanschauung, existing on several planes at once and held in orbit by Treado's imagination. In addition, the hypnotic quality of brightly colored, ringed discs activates the work and commands the viewer's attention. Or, in the artist's words, "When clustered together, overlapping or occupying distinct envelopes of space, a collection of them becomes a dynamic force, willing themselves into motion."
Where Ken Noland's concentric circles were a means of exploring pure color, Treado's circles and accompanying rondos, explore the mechanics of the universe in attention commanding compositions and assemblages. The tension between the precisely rendered paintings and the playful titles is only one element of the artist's full on imagination in his fourth exhibition at Addison/Ripley.
Employing tools often of his own design, such as squeegees and scrapers, the artist is able to fuse solvent and oil paint to create luminous, richly surfaced paintings on Baltic birch panels and discs. Treado's paintings are process works that often borrow from sources such as film and photography, physics and biology textbooks, and electron microscope images. His multi-paneled canvas and mylar works explore the relationship between science and art and more recently the way in which we look at film and view a painting. Treado studied at Georgetown University, the Skowhegan School of Painting and Sculpture, and Pratt Institute. He regularly exhibits in New York, Chicago, and Washington, DC.
Addison/Ripley Fine Art is located at 1670 Wisconsin Avenue in Georgetown.