Yogurt & Kefir Inhibit Cancer Causing Bacteria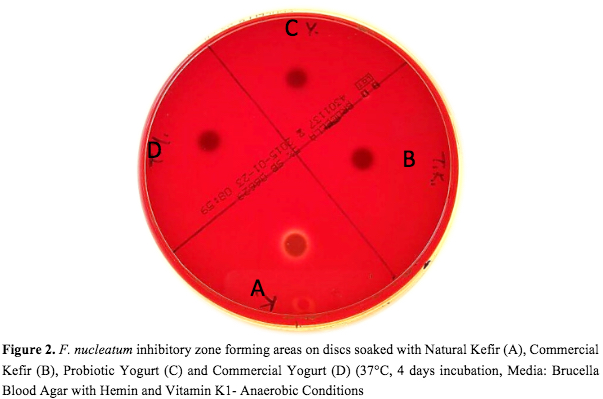 You've all heard about the health benefits of the probiotic bacteria found in yogurt and other similar fermented dairy products such as kefir. This recently published study provides more evidence of yogurt cultures' actions against serious disease-causing pathogens, such as Fusobacterium nucleatum.
F. nucleatum can cause diseases in the mouth, teeth, brain, pleura, lungs and liver. It induces fetal death in pregnant women and can lead to colon cancer by binding to the lining of the gastrointestinal tract, according to a recent study in the journal, Functional Foods in Health and Disease.
In this study, when yogurt and kefir were added to a petri dish filled with F. nucleatum and incubated for 3 days, there appeared clear zones where the yogurt and kefir were placed. Thus showing inhibition of the growth of F. nucleatum. Interestingly, the plain milk used for the yogurt and kefir did not show an inhibitory effect, but the higher the concentration of the kefir and yogurt probiotic bacteria, the more F. nucleatum's growth was inhibited.
"Previous studies have indicated that fermented dairy products can cause probiotic effects such as improvement in digestive system health, serum cholesterol reduction, and improvement in lactose tolerance, improved immune function, control of irritable bowel symptoms, as well as anticarcinogenic properties. Kefir is known to have positive effects on health and especially intestinal health. Therefore, these findings are important for showing an inhibition effect of fermented dairy products against a pathogen and possible carcinogen. These results suggest that regular consumption of natural fermented dairy products especially kefir should be included in a functional diet. The impact of these cultured dairy products could be promising and warrants further investigation with in vivo studies," according to the authors of the study.