Yarrow Mamout:The Black Burgher of Georgetown at Tudor Place March 14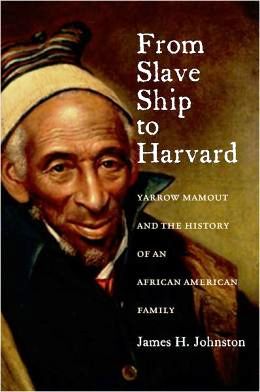 Meet author James H. Johnston and learn about the fascinating life and career of Yarrow Mamout March 14, 2013 at Tudor Place.
In his new book, From Slave Ship to Harvard, Johnston recounts the fascinating life and career of an educated Muslim brought here from Africa in 1752 on a slave ship, his rise, and that of his descendants. Forty-four years after his arrival in America, Yarrow Mamout was freed and settled in Georgetown where he owned a house and lot on Dent Place, near Tudor Place.
The famous American portrait painter Charles Willson Peale was so taken by Mamout that he did a stunning portrait of the man, portraying him as a wealthy Georgetowner.
Mr. Johnston will outline the ties between Mamout and the owners of Tudor Place, beginning with Christopher Lowndes of Bladensburg, who owned the ship that brought him to America. Lownde's son, Francis, sold the 8.5 acres that became Tudor Place to Martha Parke Custis and Thomas Peter. Records also show that Mamout worked for Thomas Peter's father, Robert Peter, a merchant, land speculator, and first mayor of Georgetown.
Event starts at 6:00 pm with wine and light hors d'oeuvres. Lecture begins at 6:30 pm.
Complimentary to Landmark Society Members
Tudor Place Members welcome at $15/Non-Members: $20
For tickets, click here.
Tudor Place is located at 1670 31st Street.