WUSA9 Sports Director Brett Haber takes the heat as stand-in ref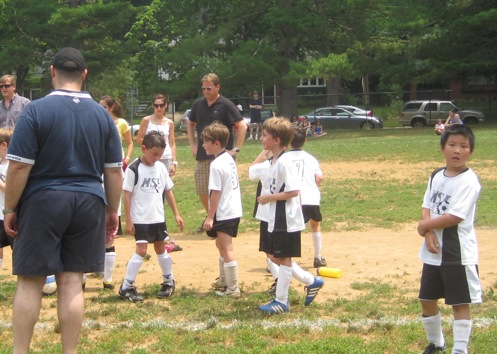 All who braved Saturday's 90-something degrees were wilting, but the blistering temps on a dusty soccer field swarming with eight-year-olds didn't stop WUSA9 Sports Director Brett Haber -- wearing a dark, sun-absorbing polo shirt, no less -- from jumping off the sidelines to answer a call for help when a stand-in ref was needed in his son's MSI game in Potomac.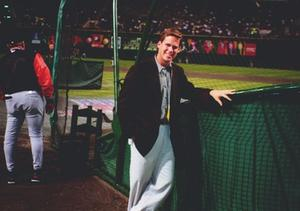 The popular broadcaster loves his job, but the New York native and Dartmouth grad who started as a high school intern under NBC's Bryant Gumbel says watching his sons "do their thing is my favorite part of the week." So when an extra referee was needed near the end of the game, Haber stepped forward.
He's jumped in bravely in unexpected situations before. As his freshman year began at Dartmouth, Haber called the news director at the local station in White River Junction, Vermont, to ask if the affiliate needed any help. Sure enough, WNNE was starting an 11 o'clock news show. Haber began as an off-camera director, taking a taxi each night from school in New Hampshire. Then, Haber made friends with the sportscaster. "I'd go out with him on shoots. He'd be filming the spots himself," Haber said. The reporter asked Haber to hold the camera for the stand-ups. A career was born.
When the station's on-air sportscaster got a job in a bigger market, Haber got a call in his dorm room to do an audition. "They said, 'You did that thing on the air [at NBC] when you were in high school, so come down to the station after the news tonight -- and wear a tie,'" Haber said. "Imagine the worst audition, and multiply it by five. That was me. We were broadcasting out of the basement of a motel." But working 50 hours a week, Haber got the hang of it. The station offered him a full-time job.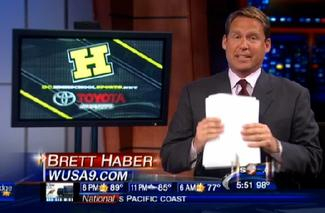 "In words that I can't repeat, my father said I was not going to drop out of Dartmouth to take the job," he says. Nonetheless, Haber, then a sophomore, stayed on at the station, continuing to work until he graduated with a degree in English. Haber went on to WCAX-TV in Burlington, Vermont, then WCPO-TV in Cincinnati before starting at ESPN at age 25, where then-sportscaster Keith Olbermann became a mentor.
In addition to his duties at WUSA, Haber is a play-by-play announcer for the Tennis Channel, calling ATP and WTA matches, but sports don't consume him. "I'm not wrapped up in it 24 hours a day," he says. "My eyes are wide open to what goes on in the country. I sit in [the late] Glenn Brenner's chair. He's a guy who defined how you can do sports and not necessarily take yourself too seriously. He showed us how to mix personality with reporting and sports and other things."
Haber loves history and culture -- and Georgetown, where he lived on Olive Street for four years, pushing his then toddler son along the brick sidewalks with his wife Jennifer Haber, a senior executive at Qorvis Communications.
Haber may have left Georgetown for now, but WUSA9 still has a notable presence here. The station's General Manager Allan Horlick -- sometimes spotted at Café Milano and the Georgetown Inn -- lives down the street at the Watergate.