From 'Wreck' for Cars & Salt to Waterfront Park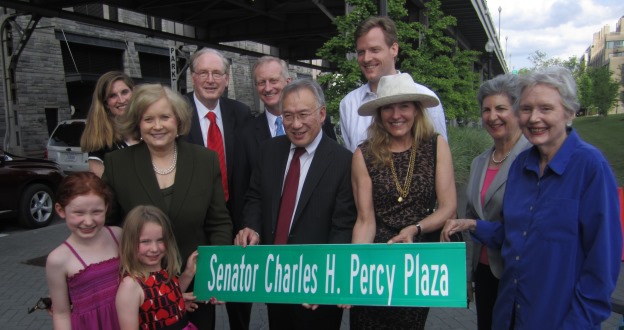 There's a new sign for a new plaza at the foot of Wisconsin Avenue, where it meets the Potomac River. It was unveiled Thursday afternoon by members of the Percy and Rockefeller families, city officials and local leaders as they honored the late Senator Charles Percy's tireless efforts for the creation of the Georgetown Waterfront Park that runs from 31 Street to Key Bridge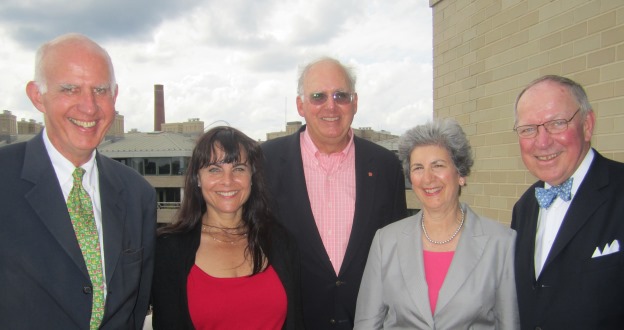 In the short ceremony preceding the unveiling, Ward 2 Councilmember Jack Evans, the District's longest-serving councilmember, recalled the bad old days along the waterfront. Twenty years ago "this was a wreck," he said, with the District Government using the site to park cars and store mounds of winter-weather salt. Now it is populated by joggers, bicyclists, walkers and children gamboling under the sprays of a bathing fountain. Sharon Percy Rockefeller, the Senator's daughter, praised the cooperative spirit that brought the federal and District governments together with community leaders all under her father's leadership to "make my dad's vision a reality."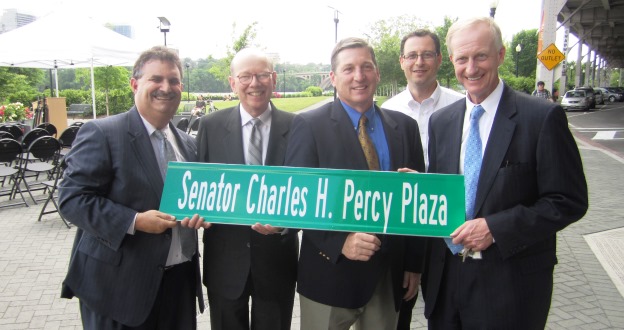 Evans also praised the Senator for his interest and support for local political rights as demonstrated in his 1978 vote for the Voting Rights Act for the District.
The guests of honor were, in addition to Sharon Rockefeller, her husband, Senator Jay Rockefeller, Loraine Percy, the Senator's widow and members of their extended families. Robert vom Eigen, President of Friends of Georgetown Waterfront Park, ably emceed the event with Mayor Gray represented by City Administrator Allen Y. Lew.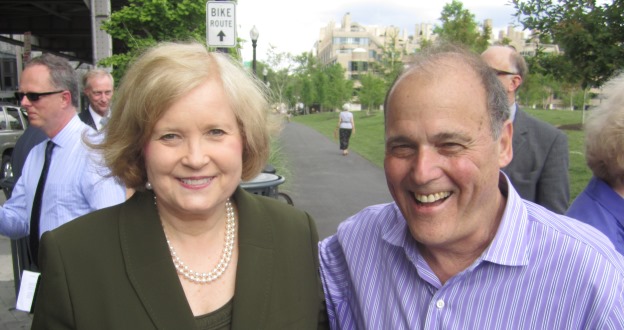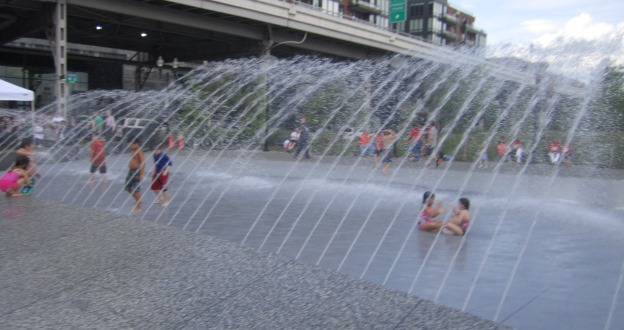 The crowd then pulled the cord that pulled off the wrapper for the street-name sign and is it now Senator Charles H. Percy Plaza, officially.
Caption note for feature picture (from left): Percy and Lucy Wayne (children), Valerie Wayne, Sharon Percy Rockefeller, Senator Jay Rockefeller, Councilmember Jack Evans, Allen Lew, Charles P. Rockefeller, Gail P. Davis, Grace Bateman and Loraine Percy (Senator Percy's widow).