'The Woman in Black' – Brilliant, Scary and Fun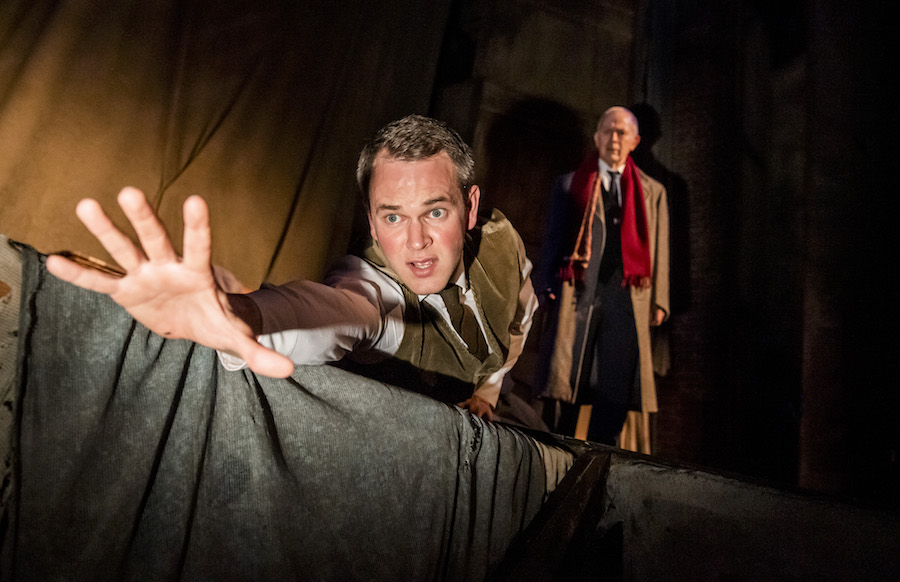 The Woman in Black is a ghost story written by Susan Hill, about Arthur Kipps haunting experiences at Eel Marsh House. In this story Arthur Kipps, a young solicitor, is instructed as a last attempt to keep his job, to visit Crythin Gifford to attend the funeral of the late Alice Drabow and to review any relevant documents left by her, the deceased owner of Eel Marsh House, an isolated windswept mansion with tragic secrets hidden behind its shuttered windows, as a prelude to the sale of the house.
The book was adapted as a play by Stephen Mallatratt and had its first performance at the Stephen Joseph Theatre in Scarborough, UK in 1987. After seeing it you will understand why people are still flocking to see it. When the play begins it is thirty years later and Arthur is preparing to tell his story of that time to his friends and family. He has hired a professional actor to help him to tell the story. We see him return to the site amidst the eerie marshes and howling winds of England's forbidding Northeast Coast on Christmas Eve with the actor he has hired to help him exorcise the terrors of that horrid time long ago. Arthur arrives in Crythin Gifford to attend Alice's funeral where he first relates seeing the woman dressed in black though apparently no one else does.
Director Robin Herford has staged this play so well he manages to have the two characters, Kipps and The Actor, keep you fully enthralled for two hours. Herford says about this play "It is the magic of theatre, made possible only by that most precious and under-used of commodities, the audience's imagination. This piece relies extremely heavily on it, as all the good theatre should."
Now, while not all of us in the audience may have a great imagination, Herford ensures that we will be aided not only by the wonderful book or adaption of it as a play but by an amazing company of talented and creative artists. He brings the play to life for us though use of the lighting design by the talented Kevin Sleep, Scenic and Costume design by the imaginative Michael Holt and the often scary sound effects by Sound Designer Sebastian Frost.
*/
Then there are the two actors on stage who keep us enthralled the entire time. The brilliant Daniel Easton as The Actor; and playing so many roles in this story the extremely talented Robert Goodale as Arthur Kipps. When you add all this together, then stir the pot a little, you end up with one of the most fun evenings I have had in the theatre in a long time. The Woman in Black will be at the Michael R. Klein Theatre at the Lansburgh through December 22. I urge you to get your tickets now.