Witness to history: Tudor Place a Georgetown treasure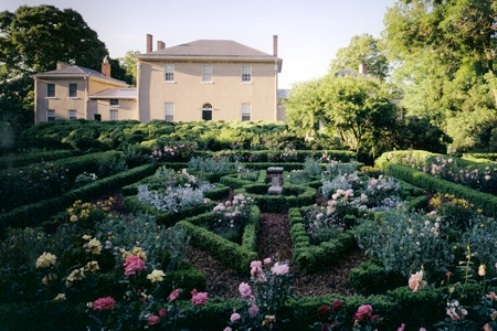 Built between 1795 and 1816 on a whole city block (on 31st between Q and R Streets), Tudor Place illuminates the history of Georgetown, the "mother" of the nation's capital. Six generations of the Peter family lived at Tudor Place. As the nation developed, those who lived and worked on the estate witnessed first-hand the growth of Georgetown, the city of Washington, and the United States. The family's records and their substantial collections serve as a unique doorway to our American history.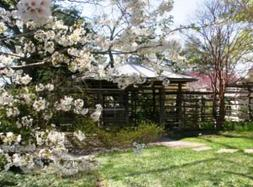 Today, Tudor Place is the repository for an extraordinary collection of decorative and everyday objects, manuscripts, letters, account books, diaries, deeds, plats and maps, blueprints, broadsides, early moving picture film, photographs, and books, that span the years 1650-1983.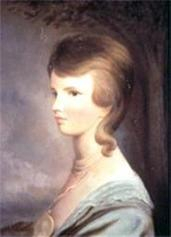 On June 5, 1805 Thomas Peter (1769-1834) sold land which his wife, Martha Parke Custis Peter (1777-1854), inherited from her step-grandfather, George Washington. That same day, Thomas purchased eight and a half acres of the Rock of Dumbarton tract to build his family's seat. With the completion of their impressive neo-classical home designed by Dr. William Thornton, architect for the first U.S. Capitol building, in 1816, Martha and Thomas Peter elegantly entertained friends and notable politicians. "A gay and fashionable society had grown up there [in Georgetown], trade had prospered, wealth had accumulated, and there had come an ease and culture to its inhabitants that attracted men of fashion and distinction. In this way Georgetown took the national capital under its wing and became the centre of social and diplomatic society."[1]
Martha and Thomas Peter furnished their home with fine furniture, silver, ceramics, and other objects crafted in Georgetown, Baltimore, Philadelphia, England, and Ireland. The busy Georgetown port received a wide variety of goods from abroad as well as from other major cities up and down the coast. William A. Gordon, a clerk for the federal government, recalled in 1860, "At the wharves, which extended along the whole front of the town, were generally numbers of vessels loading and unloading. Water Street, which was occupied by the wholesale merchants offered many attractions. It was a busy place, the street crowded with carts and drays, and at certain seasons of the year with lines of large covered wagons, drawn by four or six horse teams with bows of bells on shoulders, and loaded with produce from Pennsylvania, Maryland, and Virginia; the warehouses filled with flour, tobacco, whiskey, salt, grain, and other merchandise."[2]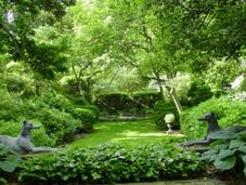 The second owner of Tudor Place, Britannia Peter Kennon (1815-1911), was widowed just 14 months of marriage to Commodore Beverley Kennon and, with her young daughter, Martha Custis Kennon, returned to Tudor Place in 1844 to live with her mother who died in 1854. Despite being a southern sympathizer, at the outbreak of the Civil War she opened the house to Union Army officers as boarders to prevent her home from being used as a hospital. Her son-in-law and beloved Georgetown obstetrician, Dr. Armistead Peter, treated wounded Union soldiers at Union Hospital (also known as Seminary Hospital) at Gay (N) and Washington (30th) Streets.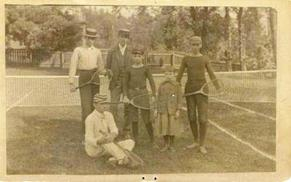 In 1911 Armistead Peter, Jr. (1870-1960) became the third owner and, using his brother Walter Gibson Peter, completed a renovation in 1914, equipping the house with the latest inventions: electricity; plumbing; a new heating system with steam radiators; an "annunciator" or call bell system; and an intercom system. An avid hunter, Armistead Peter Jr. would hunt on the Tudor Place grounds, in Rock Creek Park, in the area north of Montrose Park, and in what is now the Foxhall neighborhood.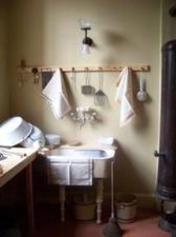 In 1960 Armistead Peter 3rd (1896-1983), a preservationist, artist, and avid farmer, inherited Tudor Place and preserved it for the future. The beautiful north garden "rooms" are largely his work and include a Circle Garden created with bricks from a house torn down in Georgetown.
Through war and peace, periods of political and social upheaval, and times of financial prosperity and hardship, the property was preserved to educate the public about American history through the lives of those who lived and worked at Tudor Place.
Tudor Place is open Tuesday through Sunday: Museum gift shop, house and garden tours, specialized tours. Visit www.tudorplace.org for hours. Members and the public enjoy educational events throughout the year.

[1] Maud Burr Morris, ed., Records of the Columbia Historical Society, (Washington, DC.: Columbia Historical Society, 1932), Vol. 33-34, p. 144.
[2]William A. Gordon, "Recollections of a Boyhood in Georgetown," Read before the Society, April 18, 1916, Records of the Columbia Historical Society, (Washington, DC: Columbia Historical Society, 1917), Vol. 20, p. 130.