Willamette Valley Parts 3 and 4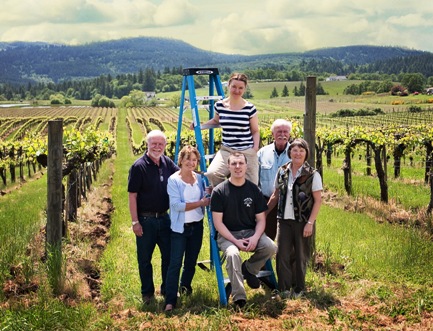 Today, I conclude my four part series from the highly acclaimed Willamette Valley of Oregon by sharing my experience from my third and fourth visits with world class American wine producers.
My third stop on this research trip was to visit Ted Casteel of Bethel Heights Vineyard Winery. While he would tell you he and his twin brother Terry are from the 2nd generation of pioneer Pinot Noir producers, he is doing so out of a regional and polite deference to those that preceded him by only a few years. In my view, the Casteel Brothers are part of the impressive 1st generation of distinguished Pinot Noir producers, nuances notwithstanding.
Bethel Heights sits in the Eola Hills of the Willamette Valley, and is mostly planted in Pinot Noir vineyards dating back to 1977. At that time, US wine consumers were very few in comparison to today, and the Pinot Noir consumers were an even smaller market who mostly enjoyed French Burgundy. Please note that Bethel Heights was planted a full 27 years before a bellwether event. Mainstream American wine consumers began jumping aboard the Pinot Noir bandwagon following the surprising effect of the now considered cult film "Sideways". (Data shows incidentally, that this film's impact ended up moving the Pinot Noir markets globally; since impacting the huge global US consumer market has that kind of net global impact.)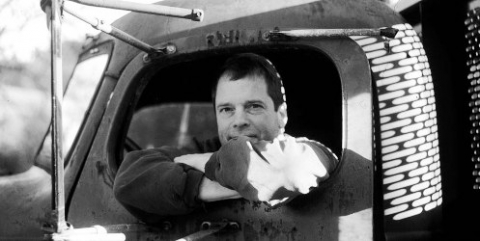 Ted and his family-run business have an authentic commitment to responsible and sustainable wine growing. He co-founded "LIVE" a certification standard (Low Impact in Viticulture and Enology), and these estate wines also carry the "OCSW" logo (Oregon Certified Sustainable Wine).
My focus is to identify the best in class vineyards in the USA, and to duly recognize the producers making authentic wines from them. (This is the mission of The American Grand Cru Society). The benchmark for American Pinot Noir and Chardonnay is, of course, Burgundy. The Eola Hills in the Willamette Valley of Oregon offer prime vineyard areas for these noble varietals, and considering the cost of top tier French Burgundy…well you already know what I think. Yes, World Class Pinot Noir and Chardonnay has its own rich heritage of authenticity in the Eola Hills of Oregon!My 4th and final visit was to Beaux Frere Vineyard up on the Ribbon Ridge of the Willamette Valley. This visit honestly was a last minute, half-day extension of an altogether too short trip to the region. Beaux Frères was on my radar and even on my initial short list of targets, but one that I was originally planning to forego. Funny, but this was the case, even though the wine it produces was in fact one of my personal introductions to American world class Pinot Noir. My hesitation, to be candid, stemmed from an honest feeling that I will share, but that in the end was really unwarranted.
The reason for my hesitation was that Beaux Frères is already quite well-known in the trade and with most serious American Pinot Noir consumers. It's funny how we can get stuck with ideas at times, that aren't always well-reasoned. Since this estate makes such a limited amount of production each year, I am not so sure if most wine consumers have really ever had the pleasure to know about or try these truly great wines. So, in the end, I decided to include them in my research.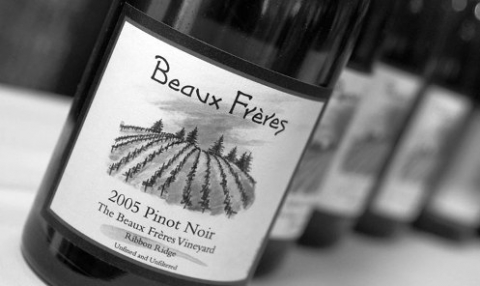 The term, "Beaux Frères" comes from the French term for brother-in-law. Michael Etzel is the wine maker and managing partner at Beaux Frères. To further explain my hesitation, I should disclose my initial bias is due to the fact that Michael is also the brother-in- law of Robert Parker - arguably the world's single most famous and influential wine critic with his ratings and publication Wine Advocate. In addition, Parker is reportedly a business partner at Beaux Frères, and thus, the root of my bias. After this visit my conclusion was that the association really has no bearing on the amazing American Pinot Noir wines that Michael Etzel produces other than, perhaps, a bit more niche consumer awareness. The wines produced here at Beaux Frères are wonderfully representative of this impression vineyard estate and ones that should provide the US consumer with a collective national pride.
As American wine consumers, we should be both proud of our winemaking accomplishments, and appreciative of the cost value relationship in purchasing our best in class wines particularly as compared to benchmark wines from Burgundy.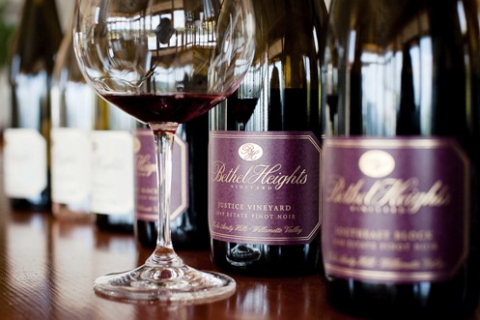 Now on to some highly recommended wines from Bethel Heights and Beaux Frères!
Bethel Heights:
2009 Carter Vineyard Pinot Noir $50
2009 Justice Vineyard Pinot Noir $50
2009 Flat Block Vineyard Pinot Noir $58
2011 Estate Grown Chardonnay $25
Order online at www.bethelheights.com –or call (503) 581-2262
Beaux Freres:
2009 Beaux Frere Vineyard Pinot Noir $90
2009 Beaux Frères, Upper Terrace Pinot Noir (Magnums) $200
Order Online at Beaux Freres or call 503.537.1137
To your good health and happiness!