Willamette Valley: Part 2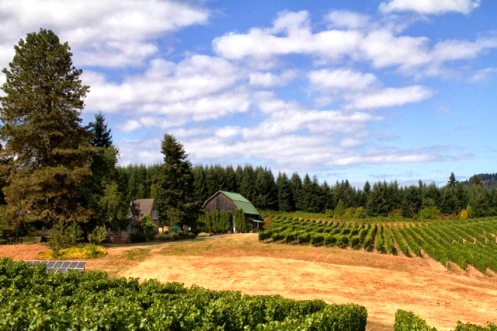 Today I continue with Part 2 of a 4 part series (see Part 1 here) focusing on the Willamette Valley of Oregon. This wine region's success has been driven by a small group of well-respected, successful pioneers producing top tier vineyard specific American Pinot Noir wines. An earthy community as well, they were all very into a sustainable eco-friendly wine growing and producing process.
Now I should note first that this research trek was the result of a rather impulsive, last minute decision to drive cross country from D.C. to the west coast in my wife's Mini Cooper Club S in order to dispense of some "use or lose" corporate vacation time (a bizarre commercial practice, don't you think?). The ride in the Mini was great, and if you haven't yet had a chance to see some of the country this way, I recommend adding it to your "bucket list".
My second stop in the Willamette Valley was a visit to see Doug Tunnel at Brick House Winery. His winery is best known among consumers loyal to Certified Organic wines, which his have been since the first planting in 1990. His vineyard at Brick House comprises 19 vineyard acres, most of which are planted in Pinot Noir, a small amount of Chardonnay and a miniscule amount of Gamay.
Brick House has such a small production, and I'm guessing that most of you have never yet heard of or tasted its exquisite wines. Doug is one of the earlier producers in the growing US natural wine scene; the wines produced here are of exceptional quality, true to the estate vineyard site, and true to the owners' personal commitment to letting the vineyard produce the wine in every respect. Proprietor, chief winemaker, and sometimes bottle washer at Brick House, Doug did not first set out to be a wine grower. Interestingly, his first profession was that of a foreign correspondent for a major news network in the Middle East during the 70's (just think about all the events that man has witnessed). Following his successful news career, he returned to his Oregon roots and is among the so called "2nd generation" of the Pinot Noir wine growing pioneers from this well established and now highly acclaimed Pinot Noir producing region of the country. My conversations with Doug during my visit were fascinating; an added bonus to tasting some wonderful wines.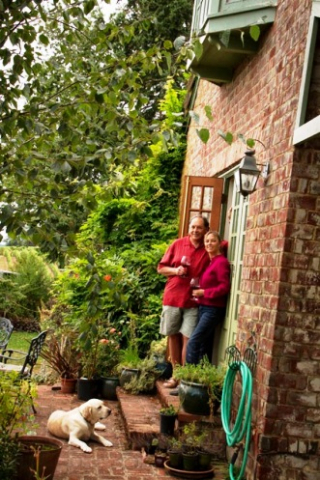 On arrival I was first taken into the kitchen/lab of his estate home and tasted some raw juice. The juice was now getting tested frequently in the days and hours before the first fruit was to be picked. Picking perfectly ripened fruit, from best in class vineyards, plays a huge part in the success of the wine making process. It certainly is the only way to produce top tier, world class wines. Great wines come from a vineyard, that's just the way it is. Doug was a gracious host and we chatted as he was going about the work of the day. His story demonstrates that one can make world class wine consistently, responsibly, and successfully with a healthy environmental commitment in growing the fruit and making the wine. Brick House's smaller, manageable operation contributes to its impressive success, and I'd be willing to bet that Alice Feiring, famed NYC Author of Naked Wine, is a fan of Doug Tunnel and Brick House wines. I personally found his wines to be authentic to the vineyard and to his fascinating personal story. The case production of these wines below counts only in the hundreds so grab some of them whenever you can.2010 Ribbon Ridge Cascadia Chardonnay An amazing Chardonnay that reminds me a bit of something from Puligny-Montrachet in the Cote de Beaune area of Burgundy. Only ever fermented with indigenous yeast, and left on the lees for 16 months, this pleasurable wine offers a generous note of ripened pear, crème fraiche, minerality, flint, and with impeccable balance. Retail price $36 Like the other handful of established neighbors up on the Ribbon Ridge of the Willamette Valley, I found each of Doug's Brick House Pinot Noir's to be distinctive, rich in depth, and authentic. Again, neither favorites nor any wine speak necessary. Try any one alone or seek out some of each - you just really can't go wrong.2010 Bolder Block Pinot Noir Retail price $442010 "Les Dijonnais" Pinot Noir Retail price $492010 "Evelyn's" Pinot Noir Retail price $60 Order online at Brick House Wine while the small quantities produced are available. Compare the value and quality of these American produced Pinot Noir's against many Burgundy Grand Crus wines and you will be very pleased that you did.
To your good health and happiness~