Why Patrick Mara IS the Best Choice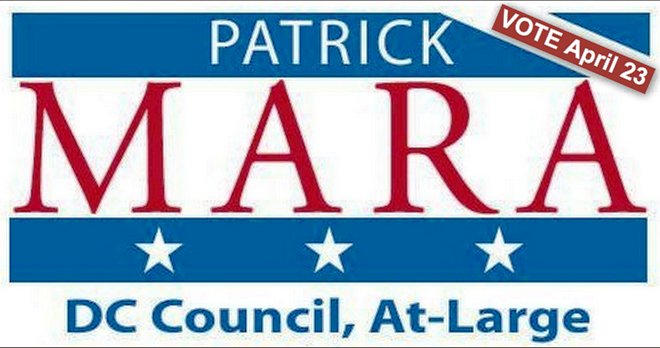 My friend Peter Rosenstein wrote in The Dish about why he opposes Patrick Mara in the April 23rd special election for At-Large D.C. Council. Peter and I agree more often than we disagree. When we disagree, it is always respectfully. Like Peter, I am a Democrat. Before I met Patrick Mara, I had never voted for a Republican. In 2008, Mara earned my vote when he was running against Kwame Brown and Michael Brown. They won that election; a result that didn't really turn out to be a good thing for the District. Mara is a socially progressive Republican. He supports marriage equality, the right of women to make their own health care and reproductive decisions, and the District's gun control laws. Maybe social issues are not high on your list of priorities for the D.C. Council. How about education? Mara is one of the most active, hardest working School Board members in the District. But don't believe me. Here is what The Current Newspaper said when it endorsed him: "Mara is the best choice -- sure to bring the diligent work ethic he has shown on the State Board of Education to the job of legislator. We heartily endorse his candidacy." Not sold on the Current? No problem. Here is what the Washington Post wrote when it endorsed Mara: "Patrick Mara, in our judgment, is the best choice, offering a record of energetic service to the community marked by a thoughtful approach to the issues and a willingness to speak his own mind."
OK, so we know Mara is good on schools, works hard and is thoughtful.
How about ethics and honest government? Mara speaks passionately about the need to protect our tax dollars from crooks and cronies. Just today he issued a statement about a corruption scandal that seems likely to get messy as more facts become known.
The environment? The Sierra Club endorsed Mara. The economy? The Chamber of Commerce endorsed Mara.
Quite a coalition. And that is why Mara's opponents are hammering away on him. Because he can win, and because he will shake up the Council. Some of Mara's opponents are doing worse things than hammering: they are nefarious. Peter wrote that he is concerned about a Washington Post story the focus of which is a contract Mara signed. In 2009, Mara agreed to raise money for a non-profit organization. The agreement said he would contact prior campaign donors to seek their support. That could be a violation of rules, but is likely not. It seems to be an honest mistake or lack of knowledge about an esoteric rule. Indeed, Mara says the contract was not properly worded and the work he did amounted to nothing more than a hill of beans. But here is the nefarious part: the contract cited in the Post story may have been stolen from Mara. I spoke with Mara about the issue. He says that only two people ever had proper access to the contract. He believes it was improperly obtained. Watergate! Not really. But you get the picture. And how convenient ... That picture gets developed in the closing days of the election. All the signs of smear campaign.
I doubt many voters were rattled by the Post story. We've seen this kind of eleventh-hour mud-flinging before.
I am voting for Patrick Mara. He is still the only Republican for whom this Democrat has ever voted. I am confident the D.C. Council will be a better legislative body with Mara on it.I made my case at NBC Washington and I appreciate The Dish for allowing me to make it here, too.
Written by Chuck Thies, political consultant and NBC Washington columnist