Why I Support Muriel Bowser for Mayor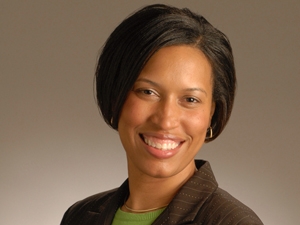 As an out and proud gay man, the choice to support someone other than the gay man running for D.C. mayor was not a decision made lightly. It was, however, made easier because of the many values shared with his Democratic opponent.
Not since 1994 has there been a real contested mayoral election in the District of Columbia. At that time, my support went to Carol Schwartz and I helped write her platform. This time after looking closely at the candidates my vote will go to Muriel Bowser on Nov. 4. She is the right person to be mayor at this time in the District's history.
Many friends ask what difference it makes. Isn't politics just a dirty business? My response to that is a resounding no. Because of the work of good public servants, and many deeply committed activists in our community, the District has continued to move forward and improve. We are headed in the right direction since Anthony Williams was elected mayor in 1998. Williams upgraded city services, bringing agency operations into the technological age. Adrian Fenty built on what Williams did and moved education reform to the front burner.
Mayor Gray built on what Williams and Fenty began and rebuilt our reserve fund to record levels. His administration, with Chancellor Kaya Henderson, has made good progress in continuing education reform and our students have shown marked progress. Gray focused on rebuilding local education opportunities for students with disabilities. Today the District is in the best financial condition it has seen. Services are being delivered on time and efficiently. Our streets are clean and business is booming. People continue to move into the District at the rate of about 1,000 a month and we are on everyone's top-10 list — from 'hippest' city to the best place for college grads to move to healthiest city to best sustainable energy plans, to name just a few.
So what we need in our next mayor is someone who will work to continue the progress we have made, provide stability, have a commitment to running an ethical government and ensure that all our neighbors can share in the District's progress. What we don't need is someone who castigates people in public hearings or grabs a quick headline, often without follow through. We need someone who understands how to work with all people, whether or not they agree with her; someone who after four years in the mayor's office will be able to say, "We have continued to build our city and now it works better for everyone." That candidate is Muriel Bowser.
Muriel understands our city as only a fifth generation Washingtonian can. She knows it still doesn't work for everyone and grabbing headlines with a public hearing isn't always the best way to help. Sometimes it's working behind the scenes and getting government to work the way it is supposed to for the people. There are parts of our city that have been left out of the economic boom and many people still feel marginalized. In our booming metropolis there are people who are starving and homeless; many are illiterate. We need a mayor who will do the hard work and get government to focus on them — a mayor who has lived her entire life in the District supporting the principles of sharing and community involvement and who understands we can make a difference by bringing people together. That is Muriel Bowser.
The principles of community involvement and participation she lives were ingrained in Muriel by parents who believed in them and the principles of the Democratic Party. Her parents taught her to believe in equality for all; that working people deserve a chance to get ahead and earn their way into the middle class. That everyone should have a chance for the American dream and to reach their full potential, whatever that is. They taught her unions were there to help protect workers' rights and that we all owe something to the community for what we are given.
She understood early that the principles espoused by the Republican Party weren't hers, unlike her opponent, David Catania, who apparently only understood that when it became personal. As an adult and a Republican elected official he proudly called himself a 'maverick' and supported George W. Bush for president. The term didn't describe someone being 'independent,' rather it meant he was in lock-step with the Republican Party raising more than $150,000 to help bring us the Bush/Cheney years.
I met Muriel when she first ran for Council and found out how smart, committed to public service and improving people's lives she is. She has shown the depth of her understanding of government and our city. She knows how difficult it is to bring people together. She worked to pass the first real ethics bill in the Council when five of her colleagues introduced their own bills. It isn't like passing a bill that most of your colleagues sign onto before hearings are even held as her opponent often did. She has the ability to work with communities across our city who don't always agree on the right way to govern or even what they want from government. It means not working with developers on a plan and then bringing it to communities to endorse but rather doing what she is doing at the Walter Reed site in Ward 4 and setting up an advisory committee to see what neighbors want and then taking that to developers to see who could deliver it.
It is working from the bottom up, not the top down like David Catania likes to do. What he did with his recent education bills when he paid a law firm with money he raised from rich friends to write bills and then went to the community for comments. Chastising many in the process, including the chancellor, who suggested it would have been prudent to come to them before writing the legislation. But that wasn't the way to grab a headline and not the way Catania likes to work.
When Muriel was elected to the Council she understood it was officially a part-time job but she took it as full time. Her achievements may not have had her author as many bills as her opponent but she achieved the goal of making government work more efficiently for her constituents and they rewarded her by re-electing her twice. Catania took the part-time part of his Council job seriously and has earned in the neighborhood of $2 million working for law firms and even a business that contracts with the District while serving as a Council member. He has always had more than one boss while working for the people of the District while Muriel's only bosses are the people who elect her.
Recently, when workers from a local construction company, Baker D.C., approached the Council to ask it to sign a letter to their company asking them to meet and negotiate with workers, Catania was the only Council member who refused to sign. It was a stark reminder of where Catania really stands on issues. As reported in the Washington Post, "Catania has had a long relationship with the construction industry, most prominently by working as a vice president for non-union electrical contractor M.C. Dean until 2012. His political campaigns have enjoyed the support of firms active with Associated Builders and Contractors, a trade group that has opposed 'project labor agreements' and other union-friendly measures."
When questioned about not signing the letter Catania said, "I didn't see the evidence of management frustrating the rights of workers." So Catania took management's side, which seems to be what his natural Republican tendencies dictate. He has also voted against sick leave for workers.
Many believe the two most important positions in the mayor's cabinet are that of police chief and schools chancellor. Muriel has made a commitment to retain those currently in the jobs — Cathy Lanier at the MPD and Kaya Henderson at DCPS. She has spoken with them, asked them to stay and they have agreed to do so and work with her. If we are to continue to move forward on school reform, which is one of the main planks of Muriel's platform, she understands that stability and continuity at DCPS are crucial. She also understands that people in different parts of the District view our police differently and is committed to working with Chief Lanier to have every resident in this city trust in the MPD. On the other hand, Catania has not said if he would reappoint either of them.
What we don't need is a wholesale shake-up of government. The worst thing is leaving people and businesses with a feeling of instability. Whether it is the business community, parents, or those 1,000 people a month moving here, they want to know that the progress we have made will continue at a reliable and steady pace. Muriel has said she isn't afraid to shake things up when that is the only way to make progress and in the case of Fire/EMS she is committed to doing that. But she has also spoken out about the progress we have made under Mayors Anthony Williams, Adrian Fenty and Vincent Gray and is committed to continuing that progress in an orderly and efficient way.
With Muriel we get a mayor who is ethically beyond reproach even though Catania will try anything to get you to believe otherwise. After 16 years on the Council, Catania is as tied to the power structure in the District as anyone else in office.
An example of Catania being comfortable with businesses being involved in local politics and making contributions to impact voting outcomes occurred during the time he worked for an M.C. Dean subsidiary — the same M.C. Dean that paid him $240,000 a year until he left that job when considering a run for mayor. A letter in the Loudoun Times and a column in the Washington Post outlined the following, "From 2005 to 2011 he worked as in-house Counsel for their subsidiary OpenBand, LLC, which operates broadband communications networks. At the time his Chief of staff also took a job with OpenBand, LLC. Both were there when M.C. Dean, of which OpenBand, LLC is a subsidiary, and its executives gave more than $35,000 in contributions to candidates vying for seats on the Loudoun Board of Supervisors according to Virginia Public Access Project (VPAP) records. Records show that tens of thousands more have gone to General Assembly candidates and political action committees, supporting candidates who could vote on contracts for either M.C. Dean or OpenBand, LLC."
Then the Washington City Paper in 2008 reported that while Catania was on the D.C. Council and working quietly to help Patrick Mara defeat fellow Council member Carol Schwartz, (full disclosure: I supported Mara), "his employer was also raising money for Patrick Mara and was one of the prime funders of the Citizens for Empowerment PAC that sent out Schwartz attack mailers."
When Catania doubled his salary at M.C. Dean in 2011 one of the first things he had to do after taking that job was to recuse himself from the vote on the Electrician's Equality Act of 2011 passed by the D.C. Council when he should have been able to speak out on the bill and cast a vote to represent the constituents that elected him. This is a clear example of why having an outside job, especially with a company that has a contract with the District, is wrong.
Muriel is committed to hiring a cabinet that will function under strict ethics rules and will issue an executive order to see that all city workers understand their roles and pledge to serve the people ethically.
With Muriel we get a mayor who can work with the people in every ward and who respects everyone. She won't denigrate or talk down to those who may disagree with her. We need a mayor who understands both the old and new Washington and has the ability to bring them together. Muriel Bowser will be that mayor.
Then there are both the tangibles and intangibles that come with electing a Democrat. While it isn't my main reason for supporting Muriel it definitely went into my decision process. At a recent fundraiser for John Tierney (D-Mass.) my good friend, former Congressman Barney Frank said it best, "Being a Democrat means standing for something." It means working for and with people. It means working toward immigration reform; LGBT civil and human rights; and the right for women to have equal pay, full equality and control of their own bodies. It means supporting workers and unions and building the middle class. It means demanding that all people have the right to vote. While clearly not all these issues are directly related to running the District government, having a Democrat as the mayor of our nation's capital says to people in no uncertain terms, these are the things the people of the District stand for. It also calls into question which principles of the Democratic Party David Catania is so uncomfortable with. A recent Washington Post column reported that when asked why he became an independent and not a Democrat after leaving the Republican Party, he responded, "I have been in one bad marriage and I'm not about to jump into another."
There is another way in which electing Bowser could benefit our city and the nation. Many believe in 2016 we will elect our first woman president, a Democrat, Hillary Rodham Clinton. To the District it could mean that our next mayor, Bowser, can play a direct role in making that happen. She will be a super-delegate to the Democratic National Convention and can cast her vote for Hillary. As a young woman she will be able to speak out not only for equality in our city, but for making the nation a place where everyone has an equal chance to get ahead. Muriel Bowser will have access to power and the better ability to make the case for the people of the District for independence. She will work closely with our champion on the Hill, Democrat Eleanor Holmes Norton, to move the issues of the District forward. Muriel will have access that no Republican or independent could ever have.
For so many reasons I urge everyone to cast their ballot for Muriel Bowser for mayor on Nov. 4.
This article first appeared in The Washington Blade.