Who Robbed the Bank?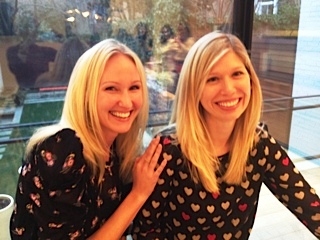 Amy Kuhnert and Kelly Doolan are getting the Concerts in the Parks 10th season off to an imaginative start. First there were those mysterious question marks and balloons delivered under cover of darkness to the doorsteps of "likely suspects." Then the plot was revealed: the annual kickoff party for Concerts in the Parks will be on Saturday, March 3 from 7:00-11:00 pm.
This year's event, hosted at TD Bank on Wisconsin Avenue, features a mysterious theme: Who robbed the bank? Suspects, played by professional actors and a few Georgetowners you may know, will mingle with guests and one of them will commit a crime. Guests can join in the fun trying to figure out whodunit by asking questions and searching for clues. Or, if they prefer, can simply catch up with friends and neighbors while enjoying cocktails, hors d'oeuvres, and music played by a local DJ.
Attire is "Thomas Crown Affair" Chic (cocktail attire). Tickets are $125 per person and proceeds benefit CAG's 2012 summer concerts in May, June, and July.
Tickets are limited and can be purchased at www.cagtown.org/youmaybeasuspect or send a check to CAG at 1365 Wisconsin Avenue NW, Washington DC 20007.