White House correspondents party in Georgetown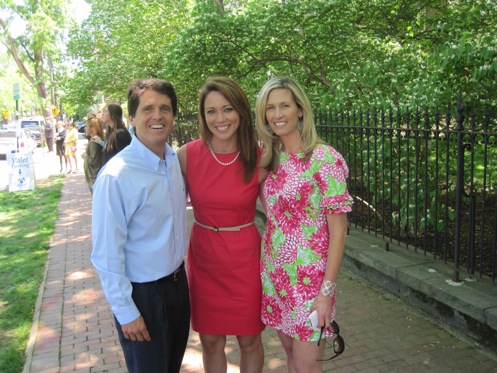 A star-studded brunch in the lineup of the annual White House Correspondents Association's Oscar-like weekend moved into Georgetown this year to a historic setting, the venerable R St. home of the late Washington Post publisher Katharine Graham, where politicos, press, and even a few Palins partied down.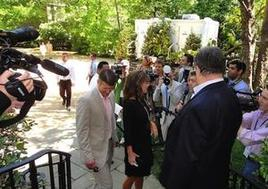 Former Alaska Governor and Vice Presidential candidate Sarah Palin, her husband Todd and daughter Bristol attended the brunch with Fox's Greta Van Susteren, who posted photos on her GretaWire blog. The brunch, hosted by media maven Tammy Haddad and hubby Ted Greenberg, raised money for Citizens United for Research in Epilepsy. Kevin Sheekey, Hilary Rosen, current owner of the house Mark Ein, Alex Castellanos, Anita Dunn, Bill Knapp, Jim Courtovich, David Adler, Steve McMahon and Cafe Milano's Franco Nuschese co-hosted.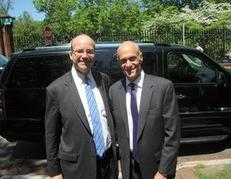 Local celebs Mark Shriver, Laura Evans of Fox, CNN Anchor Brooke Baldwin, American Urban Radio Networks' April Ryan and friend Kevin Liles made R St. sparkle, despite the near parking lot of limousines bumping into crowds attending the French Market and the Georgetown House Tour. It's amazing there wasn't a fender bender or two.
Later, however, there may have been a few bruises as President Obama in his monologue threw a few sharp jabs at Donald Trump, a potential opponent in 2012. Obama said Trump has shown the acumen of a future president, from firing Gary Busey on a recent episode of "Celebrity Apprentice" to focusing on conspiracy theories about Obama's place of birth.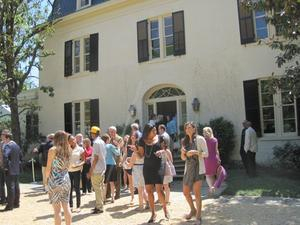 After Obama released his Hawaii birth certificate this week, he said Trump could now focus on the serious issues, from whether the moon landing actually happened to "where are Biggie and Tupac?"
Saturday Night Live comedian Seth Meyers also took shots at The (unsmiling) Donald. "Donald Trump often talks about running as a Republican, which is surprising," said Meyers. "I just assumed he was running as a joke." Whee!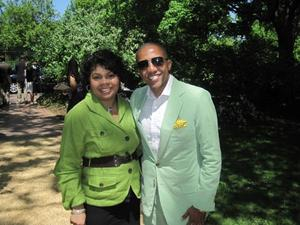 Obama's presentation started with wrestler Hulk Hogan's patriotic anthem, "Real American." Images of Americana from Mount Rushmore to Uncle Sam were shown on the screen, alongside Obama's birth certificate. Then the President offered to show his live birth video...which turned out to be a clip from the Disney film, "The Lion King."
Journos were allowed a little more levity at the annual McLaughlin brunch on the roof of the Hay-Adams Hotel, hosted by John McLaughlin and Reuters Editor-in-Chief Stephen Adler. New stars of the profession like The Financial Times' Gillian Tett and John Gapper of New York joined Washington friends of McLaughlin's like Eleanor Clift, Donna Shor, Janet Donovan, Tommy Quinn, Lynly Boor, Mary Amons, Juleanna Glover, Christopher Reiter, Neshan Naltchayan, The Georgetown Dish's Bill Rice, Pamela Sorensen and Jim Kimsey.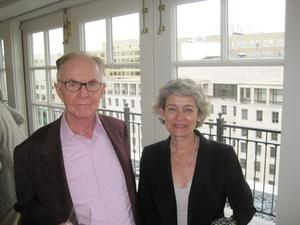 The brunch, sponsored this year by The McLaughlin Group and Thomson Reuters, is always the nicest of the weekend's events, but even sweeter this year with the transformation of the roof deck into a lovely, enclosed gallery with windows all around.
Lucky thing. The relaxation would end quickly a few hours later when President Obama announced the killing of Al-Queda leader Osama bin Laden by U.S. forces, putting almost all the weekend's partiers abruptly back to work.