What's up with Georgetown, AU and Hollywood?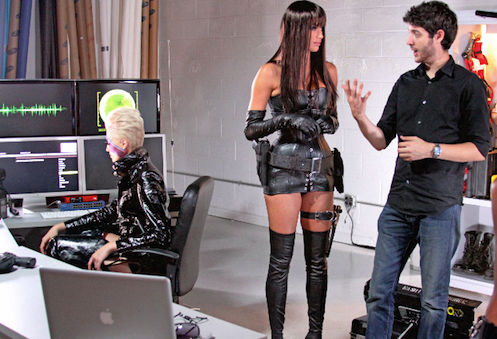 For a university that primarily attracts students of foreign policy and politics, AU sure is turning out a lot graduates that move on to the entertainment business. That would include David Gregory and Betsy Fischer of Meet the Press, film producers Elan Sassoon and former Georgetowner Philip Botana -- and most recently Georgetown resident Pergrin Pervez and AU comrade Nick Cambata, who work together at 8112 Studios. Cambata, who along with his partner Douglas Sonders, formed 8112 Studio and have been tapped for both magazines and television shows -- Nick as a video producer and Sonders as a highly skilled entertainment photographer. Collectively, their work has appeared in Rolling Stone, Billboard, The Travel Channel, a documentary in India and even work with Lady Gaga. Now they have been hired to produce a music video for Hollywood heavyweight Brett Ratner of X-MEN fame. All three worked on a music video for supermodel (Victoria's Secret and Playboy)-turned-musician Alina Puscau over the weekend. Previous shoots for the video included Georgetown and U Street. While that shoot went smoothly, Nick says it is not always the case. "Things can frequently go wrong, so we typically have a contingency plan to everything we do. We recently shot a video where the artist suggested that we shoot him inside a helicopter flying with the doors open. After arranging the helicopter and having only 30 minutes to film everything we needed, the artist discovered his fear of heights at that moment and refused to fly. After a lot of convincing, I told the artist that we were only going to go up 10 to 20 feet in the air to create the illusion he was flying. After strapping him in and the artist not being able to hear myself and the pilot, I instructed the pilot to take us in the air and fly around at full speed at a few thousand feet above the ground. The artist was visibly nervous when he realized this but I kept the cameras rolling," Nick told the Dish. "When they landed, first thing he said was, 'Did you get the shot?' I did and the success of the video hinged on this key shot."
Thanks to 8112 publicist Pergrin, here is a look at the behind the scenes development of Alina's upcoming music video.