A Whale of an Event with Real Royalty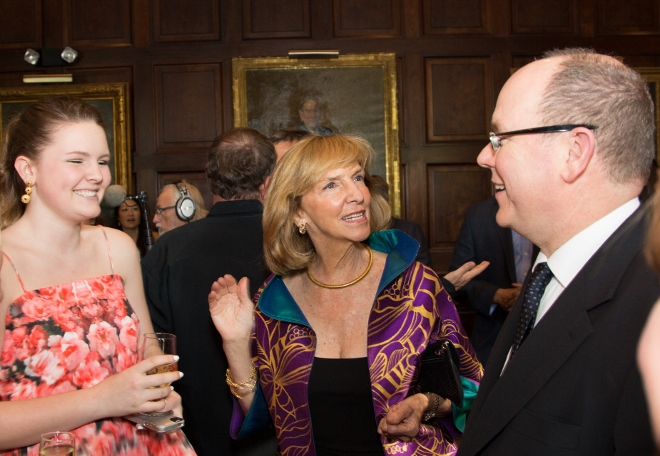 H.S.H. Prince Albert II of Monaco took a day or two away from his royal twins to travel to Washington to personally receive a Peter Benchley Ocean Award at a ceremony that drew 300+ invited guests on Thursday night.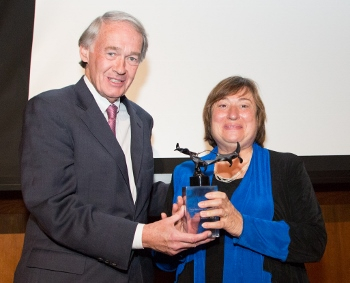 For his leadership to save the seas, Prince Albert was honored with the "Excellence in National Stewardship of the Ocean." The award was presented by Dr. Enric Sala, National Geographic Explorer-in-Residence and founder of The Pristine Seas project.
The Peter Benchley Ocean Awards, now in its 8th year, was founded by Wendy Benchley and David Helvarg, author and executive director of the Blue Frontier.
The world's preeminent ocean honors are named after the late author of "Jaws" and lifelong marine conservationist Peter Benchley.
This time Jaws lives on with a touch of royalty.
Prince Albert had an especially busy week but was relaxed and affable during a full day of speaking activities discussing environmental subjects, first at the National Geographic, then in the evening going over to the Carnegie Institution for Science for the Benchley awards. The Prince lingered at the VIP reception, which was packed with ocean advocates from Hawaii, British Columbia, Australia, California, North and South Carolina to Massachusetts, and the list goes on.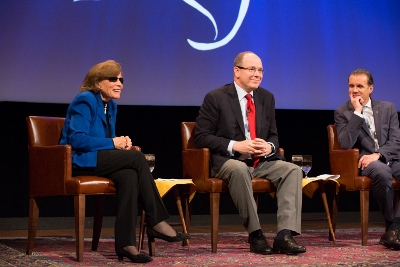 "The world needs your passion and your energy," Prince Albert told the National Geographic audience. Too often, he said, "we don't put a street light at a crossing until there's been an accident. We don't want to get to that point for the oceans."
On Sunday, May 10, Prince Albert and his wife, Princess Charlene, baptized their 5-month-old twins in services in Monaco.
Still another top award recipient was Secretary of State John F. Kerry, honored for Excellence in Policy. Sen. Ed Markey of Massachusetts presented the award. Kerry was in the air over one ocean or another at the time of the ceremony, Markey noted. So, his award was accepted on his behalf by Catherine A. Novelli, Undersecretary of State for Economic Growth, Energy and The Environment.
Dr. Enric Sala had a succinct way of how to save the oceans:
"Eat more vegetables!"