WFP Lists One-of-a-Kind Georgetown Condo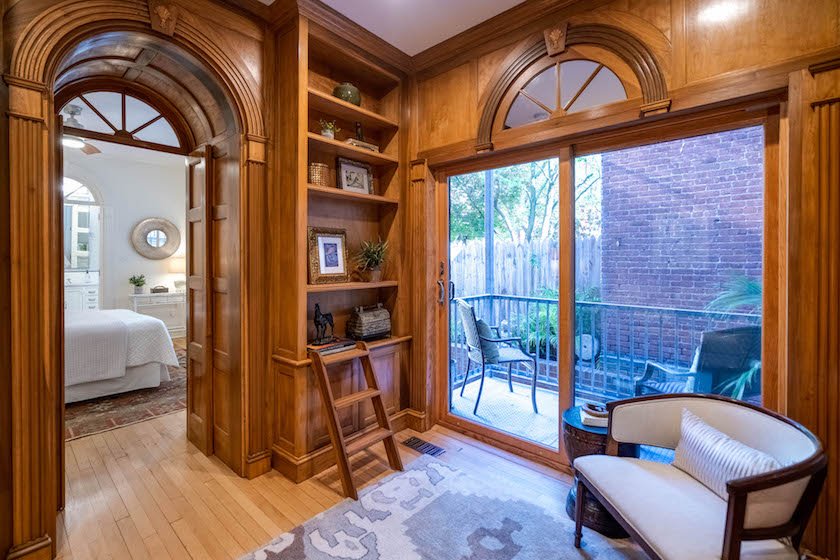 Washington Fine Properties has listed a spectacular one bedroom condominium at 1318 35th Street NW #3 in Georgetown for $749,000.
Situated on two floors, the unit was recently renovated with over $150,000 in improvements, including a new HVAC, new water heater, all-new Anderson windows & doors, new energy efficient/European kitchen appliances (Liebherr and Bosch), an induction range, Restoration Hardware marble top vanity/sink, heated towel rack, and Toto toilets.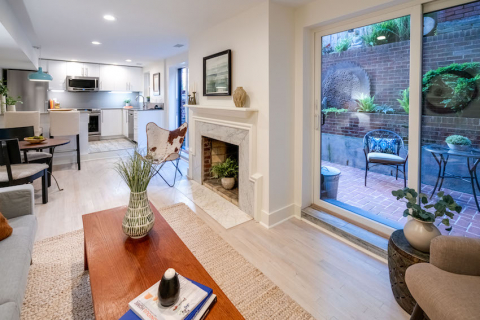 Oak floors have all been refinished, the patio was re-graded with all new bricks, and a new, larger balcony was installed on the upper floor.
Ruth France, the original owner, purchased this residence when the building went condo in the mid-1980s. Ruth France (nee Murray) was a native Washingtonian who founded Washington, D.C.'s first beatnik coffeehouse in 1959 with her first husband, William A. Walker.
Coffee 'n' Confusion attracted jazz musicians and poets, including high schooler Jim Morrison (The Doors), and received a lot of media attention in Eisenhower-era Washington, D.C. Bill Walker wrote poetry while Ruth was a painter, and together the glamorous couple made headlines. Later in life, Ruth worked at the National Trust for Historic Preservation and served on the Citizens Association of Georgetown where she won the Belin Award for distinguished service to Georgetown.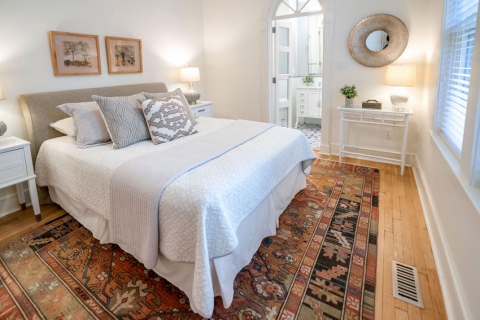 */
The wood-paneled library and series of three arched doors on the second level was Ruth's original design. She had always dreamed of having a beautiful library that would house her many books. President of the Condo Association from 1987-89, she lived in Unit 3 until her death in 2011. Ruth's daughter, Brandel France de Bravo, inherited the condo from her mother.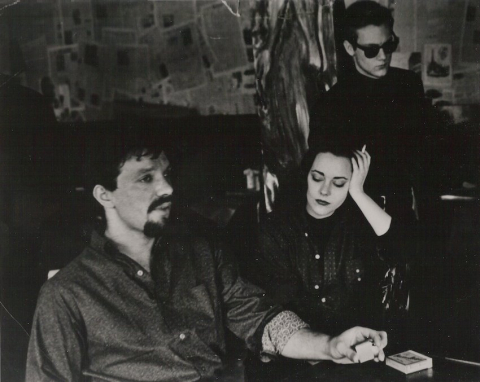 Brandel is a poet, essayist, and public health professional. She is the author of two books of poetry (Provenance; and Mother, Loose), co-author of the parenting book Trees Make the Best Mobiles: Simple Ways to Raise your Child in a Complex World, featured on The Today Show, and she is editor of the bilingual anthology, Mexican Poetry Today: 20/20 Voices.
Brandel remodeled the condo in 2017-18 and lived there with her husband until late 2018/early 2019 after selling her Burleith home of 17 years (with help from the very same Lenore Rubino). Read more about Brandel and her work here.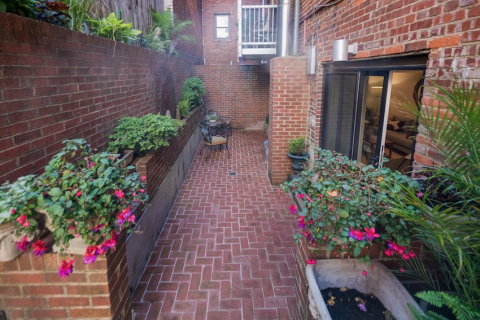 For a virtual tour, click here.
For more information, contact Lenore Rubino at 202.262.1261
*/