West End Enjoys Population Rise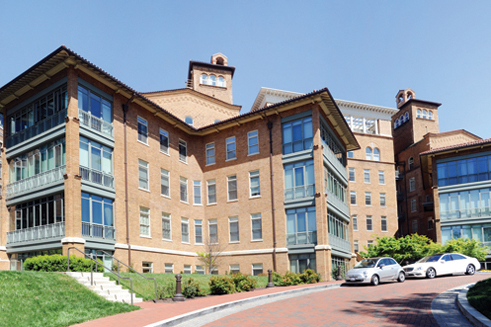 By Deirdre Bannon Current Staff Writer Back in the mid-1970s, city planners were worried about the West End neighborhood. It was underdeveloped, with a high concentration of parking lots, garages and muffler shops.
New growth was encouraged, but by the mid-1980s, some complained that the emphasis on mixed-use development had resulted in an area with too many high-end hotels and not enough residential buildings.
Today, the neighborhood's many hotels and restaurants define the burgeoning area in a positive way: It's known for its hospitality, mainly of the five-star variety, and many local residents and business owners say they wouldn't want to live or work anywhere else.
Tucked between Georgetown and Foggy Bottom, the West End is bound by N Street in the north, K Street in the south, 20th Street in the east and Rock Creek Park in the west. The neighborhood is within walking distance of the White House and the Kennedy Center and a short stroll from Georgetown and Dupont Circle. There are Metro stops in Foggy Bottom and Dupont.
"As someone who has lived in D.C. my whole life and settled in the West End in 2002, it has been amazing to see the neighborhood come alive," West End advisory neighborhood commissioner Rebecca Coder wrote in an email to The Current. "With the few thousand housing units built over the past decade, it now has a great mix of residents, visitors and businesses, including some exciting retail options."
The population in the West End has increased significantly over the past decade, especially in the 25- to 35-year-old age group. Coder's single-member district has about 4,000 residents, as compared to the standard 2,000 per commissioner, so her district will be divided and will gain a new seat on Advisory Neighborhood Commission 2A, which also serves Foggy Bottom. Among neighborhoods west of 16th Street, it has experienced by far the greatest population expansion.
Luxury condominiums and high-end rental units prevail in the West End. You won't see many single-family homes or row houses here, and Realtors say the few condos that come on the market are typically snapped up quickly thanks to demand. Most condos and rental apartments are one- and two-bedrooms; fewer are studio apartments.
In December 2011, the most expensive condo to sell that month in the District was in the West End: A three-bedroom unit at 22 West, located at 1177 22nd St., sold for more than $2.6 million, meeting the seller's asking price.
West End homes have held their value during the recession, according to local Realtors. Prices range from $250,000 for a one-bedroom condo to $2.5 million or more for a two- or three-bedroom unit.
Rental units follow suit, with one- and two-bedroom units ranging from approximately $2,000 to $6,000 per month or more.
"Once the Ritz located here and built residences, it made everyone else want to live here," said Gary Griffith, a homeowner in the West End for more than 20 years.
"It's where Zsa Zsa Gabor would live," said Donna Drejza of the neighborhood where she lives and works as a Realtor. "Newer buildings, like 22 West, the Ritz-Carlton, 2501 Penn and The Columbia bring in higher dollar amounts. In older buildings, like those built in the 1980s and earlier, someone could get a lot more square footage for the money."
Affordable housing isn't easy to find in the West End, though. When an apartment building called The Tiverton controversially closed its doors as a rental property in 2008, some said the 47-unit building on 24th Street was the last affordable spot in the neighborhood.
That could soon change, at least minimally: A recently approved EastBanc project in the West End will create a mixed-use building that includes a few affordable-housing units, along with about 150 market-priced ones. The project will rebuild the neighborhood's library and fire station.
Surprisingly, an affordable gourmet food shop helped put the neighborhood on the map: Trader Joe's opened on 25th Street between L and M streets in 2005, and that created a buzz in the West End.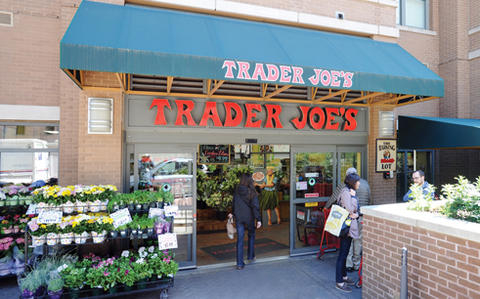 "Before the Trader Joe's opened, there wasn't a single person that lived on that block — not one residential unit," said Griffith. "Now there are about 750 apartment units on that square."
The neighborhood is also popular because it's within walking distance of downtown and many big employers like The World Bank, the International Monetary Fund and the State Department.
"When I first moved here, I couldn't get over how great the location was," said Michele Wiltse, a Realtor who lives and works in the West End. "And not to say that the West End is sleepy, but the best part of it is its proximity to Georgetown and Dupont Circle without having to live there."
The thriving restaurant scene in the West End is among the most beloved aspects of the neighborhood. Ris, the West End Bistro and Blue Duck Tavern are mainstays, and popular Penn Quarter Indian restaurant Rasika just opened a second location in the neighborhood.
"The West End neighborhood is such a great area, close to the World Bank, Embassy Row on Massachusetts Avenue, along with a great collection of fine hotels within walking distance, so it was the perfect choice for Rasika West End. I also love its proximity to Georgetown as well," wrote Rasika owner Ashok Bajaj in an email to The Current.
Bajaj said his new location has received a warm reception from the community since opening March 30, noting that there are several new menu and cocktail items.
"It is great to become ensconced in this vibrant community," Bajaj wrote, "which has a great residential audience as well as a strong business anchor."
Ris Lacoste, owner and chef at Ris, opened her West End restaurant in 2009 and said it has experienced exponential growth each year, with 2012 off to a great start.
"We love being a neighborhood place, where diners join us for all sorts of occasions," Lacoste wrote in an email to The Current. "The West End is a great neighborhood of people — residential, hotels, government offices and the university. It is in the center of four other neighborhoods and it couldn't be more perfect. It is exactly what I was looking for. … I am thrilled to see our regulars day after day."
The high-end hotels are also a draw for the West End's nightlife.
"Being able to walk to the bar at the Fairmont, the Four Seasons or so many others, it's like living in the best part of Manhattan without all the hassle," said Drejza.
A sense of community is bolstered by neighborhood organizations like West End Friends, which works to improve the Francis Field and is raising funds to erect a statue of Duke Ellington, who was born in the neighborhood on Ward Place, at a neighborhood park named for him. A fundraising concert will be held at the park on April 29.
"The West End has really become a strong neighborhood," said West End Friends president Anita Dilberto. "It's easy to get to know your neighbors, you bump into people out at dinner, and you can walk everywhere."
Commissioner Coder is excited about what's next. "The West End fire station and library redevelopments will truly put us on the map. It is a great urban enclave that is near everything — downtown, Foggy Bottom, Georgetown and Dupont Circle," she said.
There is always room for improvements. "I'd like to see us continue to add moderately priced retail and improve the parks to better serve the community," Coder said.
Most are pleased with where the neighborhood has come in the few decades. "The West End is right where it's at," said Drejza. "It's smack dab where you want to be, and I wouldn't want to live anywhere else."
This article appears in the Spring Real Estate section of the April 11 issue of The Georgetown Current.