This Week's Seasonal Batch Recipe: Thanksgiving Turkey Veggie & Barley Soup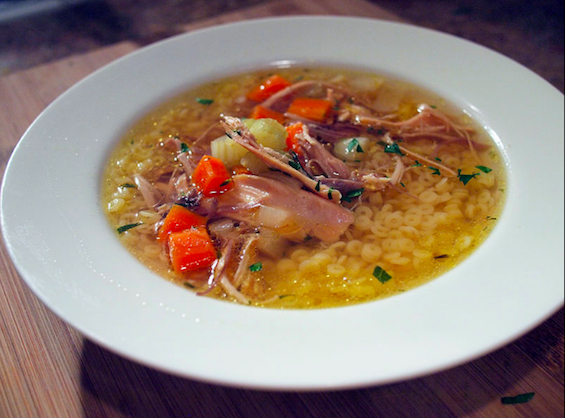 The second best part of Thanksgiving is leftovers! I try to encourage my clients to focus on healthy leftovers, of course, but perfection is never possible or even a healthy objective. One Thanksgiving, I saved the French Apple Cake dessert for breakfast the next morning (It's better for your weight and health to eat the most fattening food earlier in the day - Sometimes, it's all about STRATEGY!). It was one of the best breakfasts of my life!
This is the first recipe in my "Seasonal Batch Recipe" series. My advice: Make the most of the time you spend in the kitchen and ease some stress from your life by batch cooking. I feature batch recipes in my books, Diet Simple and Diet Simple Farm to Table Recipes. Batches are your favorite delicious, quick and easy meals made ahead of time so that you always have something in the freezer or refrigerator, ready to eat on a moment's notice. And it actually saves time. When you get home from work in the evening, just zap the batch in the microwave and Voilà! Instant delicious, nutritious dinner.
Studies show you're more likely to eat whatever is in your environment. If you surround yourself with yummy, healthy, wholesome foods, that's what you'll end up eating. It's simple physics: You naturally take the path of least resistance. So why not make things easy on yourself? Plan to make a few batch meals, or even just one, this weekend so you and your family will have their home-made favorites at your fingertips all week long.
Let's take advantage and start batching with America's favorite holiday-for-leftovers!
Thanksgiving Turkey, Veggie and Barley Soup
Adapted from Michel Richard's Chicken, Mushroom and Barley Soup, excerpted from Diet Simple: 195 Mental Tricks, Substitutions, Habits & Inspirations,
4 servings
Nothing could be simpler or more delicate than this dish. The flavors are rich and earthy. It contains all the elements of a complete meal. It's nutritious and filling to boot. I feel honored that Michel Richard provided this recipe for Diet Simple. It fits perfectly as something you can cook, store in the refrigerator and eat for several meals and is a wonderfully delicious addition.
Ingredients:
2 Tbsp Olive Oil
2 Small Onions, Peeled and Diced
1 Pound Thinly Sliced Mushrooms, or other Vegetbles
2 Quarts Unsalted Turkey Stock (defatted)
2 Tablespoons Light Soy Sauce
6 Tbsp Pearl Barley
4 Cloves Garlic, peeled and minced
Salt and Freshly Ground Black Pepper to taste
About 1 pound, boned, skinned and sliced Turkey into bite-size pieces or small slices
About 1-1/2 Cup (about 3 ounces) freshly grated Parmesan Cheese (Optional)
Heat the oil in a heavy medium saucepan over medium-low heat. Add the onion, cover and cook until translucent, for about ten minutes, stirring occasionally. Add the mushrooms - and/or other leftover vegetables. Increase heat to medium-high and cook uncovered until lightly browned, for about five minutes, stirring occasionally. Add the turkey stock, soy sauce, barley and garlic. Simmer gently for 45 minutes to cook barley and blend flavors. Season with salt and pepper. (This can be prepared ahead, cooled, covered and set aside at cool room temperature for up to four hours or refrigerated for several days.)
To serve, bring the soup to a light simmer, add turkey, reduce heat and simmer just until the turkey becomes warm, for about two to three minutes. Ladle into four soup plates. Pass Parmesan, if desired.
Nuritional Analysis:
Calories 320
Total Fat 5g
Saturated Fat 2g
Cholesterol 70mg
Sodium 1,100 mg
Total Carbohydrate 26g
Dietary Fiber 6g
Soluble Fiber 1.20 g
Omega 3 Fatty Acids 0.1 g
Sugars 1g
Protein 34g
Nutritional Analysis with Parmesan
Calories 500
Calories from Fat 200
Total Fat 22g
Saturated Fat 9g
Cholesterol 100mg
Sodium 1800mg Total Carbohydrate 28g
*/