Weaver Hardware: 85 Years Ago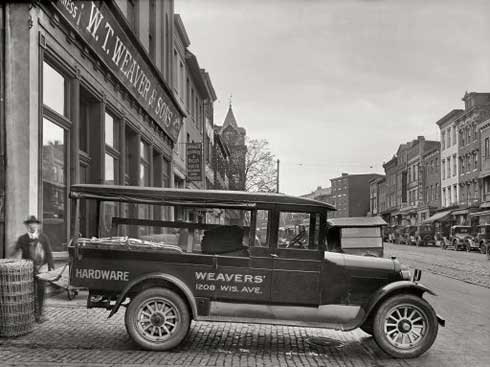 The other day, Shorpy.com–the wonderful blog of historic photos–featured a great shot of Wisconsin Ave. showing a truck from W.T. Weaver & Sons hardware. For those that don't know, Weaver Hardware is still around at the same address on Wisconsin. These days the fourth generation-owned shop provides high-end decorative bath hardware.
From this great photo you can make out so much great stuff still around:
Right near the center of the photo you can see the tower of 1238 Wisconsin Ave:
That tower now houses Zara:
The facades on the east side of Wisconsin are barely changed as well:
The buildings that currently contain UGGs, Ralph Lauren, Energie/Miss Sixty, and Madewell look almost exactly the same. The Apple Store building is obviously new (even the building it replaced, which can be seen above, was only built in the 1980s). The building that contains Nine West also looks pretty different than the building in the old photo, even though the current building looks pretty old. (It's more confusing when you consider that the roof line of the second to last building on the right in the old photo looks a lot like the building that has Vinyard Vines now. But it doesn't look like it can be the same building since in the old photo it's too far north).
The last question is: is the man in the photo W.T. Weaver himself?