On the Waterfront: Flooding causes evacuation of Washington Harbour businesses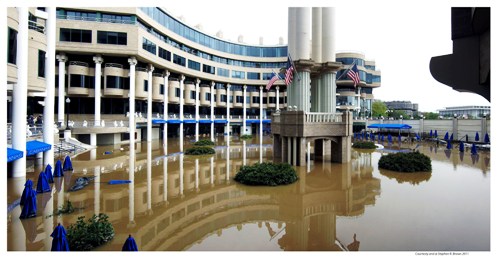 Donna Krapf was hoping to walk her dog along the boardwalk about 8:30 Monday morning when she discovered she couldn't go down the steps from Starbucks/Bangkok Joe street level to the fountain below. As she told The Georgetown Dish, "The water was pouring over sandbags that had been placed where the flood gates would have been if they had been in operation. Half a block away no one knew that anything was happening."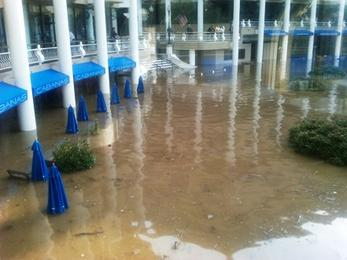 Update:
ALERT DC warned at 6:00 am Monday morning of a coastal flood in the "upper tidal Potomac River along Washington DC through this evening especially around high tide times. Expected impacts...moderate coastal flooding...particularly in Georgetown." It was hard to believe given the forecast of "sunny and warm." But, by noon the water was lapping K Street and businesses in Washington Harbor were evacuating.
As of Monday afternoon, MPD and EMS were posting "No parking on the south side of K ST NW, from 29th to Wisconsin Ave NW. No parking from 8PM until 9AM Tuesday morning" signs.
Apparently, the management company in charge of Washington Harbor failed to raise the flood wall needed to protect the businesses and parking garage close to the river. A D.C. official termed the situation preventable.