Watch out Whole Foods: New Safeway is a Food Palace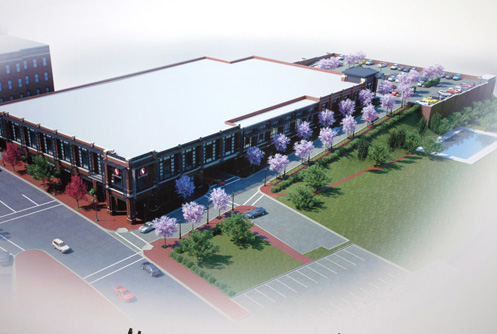 When does a supermarket qualify as a food palace? The new Social Safeway on Wisconsin Avenue will make
Image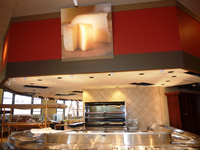 discerning shoppers proud as they enjoy its environmentally-sound design, sumptuous decor, bread baked in an open-hearth oven, an extensive selection of wine stored in a climate-controlled vault, to say nothing of its large indoor/outdoor conversation room with a fireplace, right next to a Starbucks. It'll be open 24 hours a day, seven days a week. So, why go home?
Image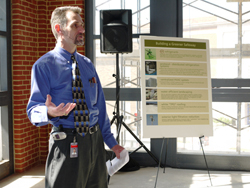 Safeway's core business is food, but its "hard hat tour" Tuesday revealed that the new Georgetown store -- opening one month from now -- is the company's "Eastern Division's greenest store to date." The tour was lead by engineers, architects, refrigeration and HVAC specialists who beamed as they talked about applying for LEED certification, hoping for silver, and becoming Washington's first LEED-certified grocery store. And, yes, they used words like "pedestrianism" which means shoppers on foot don't walk through acres of parking lot to get food. At the new Social Safeway, they will safely enter the second-floor store from the sidewalk. Several stores – Go-Wireless, Aqua Nails and Unleashed (a whole new species of PETCO) – will provide welcoming retail at street level.
Eastern Division Manager Craig Muckle explained that the new building does not occupy new
Image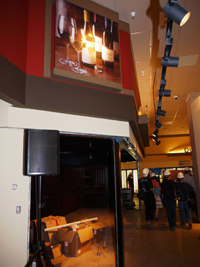 land – a LEED requirement, as is the mixed use that allows shoppers to run several errands at one location (do your nails, repair cell phone and buy week's supply of groceries) in one trip. Muckle reported that the old equipment and building materials were recycled or parts salvaged. The new 71,067-square-foot store is also designed to promote the character and historic nature of its Georgetown neighborhood – which means that Safeway has been very careful of where they place their lights to avoid "light trespass" into its neighbors' spaces.
Design Architect Brian E. O'Looney and LEED AP Dioni Rey explained how the site was
Image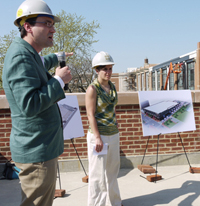 designed to retain and filter rain water before it enters the District's rain water systems. The parking lots use natural ventilation, limiting the need for noisy fans and a "green screen" will be grown over the back wall of the parking lot facing Dumbarton Park. They noted that parking LED lights are low-mounted, limiting glare into the surrounding areas. Rey explained that the "heat island effect" of black asphalt was minimized by the use of white roofing membrane and light colored surface material on the parking lot.
Also new to the company's Eastern Division, the Social Safeway will begin composting. Produce past its prime, cardboard and plastic will be sorted and composted or recycled at a Maryland location. Bone, fat and grease will become bio-fuel and plastic made into products like Trex, while compost will replace liquid fertilizers.
John Lopez of Ingersoll Rand Climate Solutions explained that refrigeration and heating and air
Image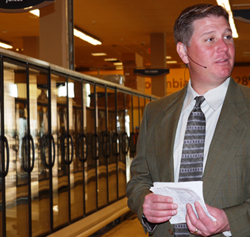 conditioning are the highest energy consumers in grocery stores. All new systems and refrigerator cases mean that the Social Safeway will have the advantage of recent energy-saving design. LED lights are used throughout the store as well as in exterior signs. Lopez estimates that LEDs reduce energy consumption by 80% or more compared to standard neon signs.
The tour concluded in the "Seating Area," a large indoor/outdoor patio with a fireplace and large windows that actually open. Robert R. Messer from Safeway's Construction & Design Department explained the screening embedded in the enormous windows and sunshade screens that are being installed on South and West sides of the building to reduce solar heat gain.
What happens in this space? People will be social. There will be tables, grouping of chairs, sofas, Starbucks, food.
The Social Safeway will return for full service May 6, the day after an invitation-only opening gala on the May 5.
Image
Eastern Division Manager Craig Muckle explains the LEEDS process. Photo: Judith Beermann
Image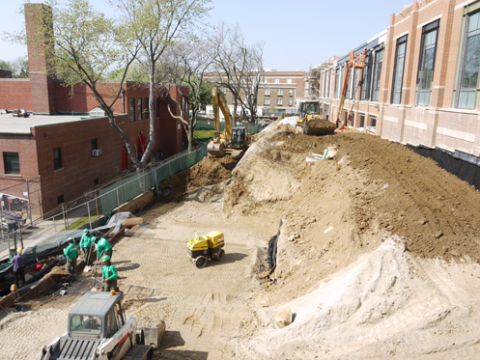 Parking Ramp being constructed on side of Social Safeway Photo: Judith Beermann