Washington Harbour renovations win nod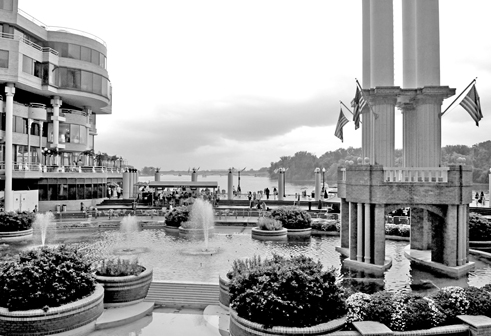 By Brady Holt...Current Staff Writer...
Developers of Washington Harbour will likely be able to move forward soon with alterations to the complex's lower plaza — incorporating an ice rink and overhauling aging storefronts — following conditional approval from the Old Georgetown Board Thursday.
The board, a subsidiary of the U.S. Commission of Fine Arts, wants additional written details about the plans, according to Thomas Luebke, secretary to the commission. If MRP Realty provides sufficient paperwork in time for the commission's Oct. 20 meeting, the approval will become final, Luebke said.
"The general tenor was [the board] gave [MRP] a conditional final approval, so that's fairly supportive," he said. "But there were so many discussions and the documentation was so spotty."
MRP, which bought the mixed-use waterfront complex in the 3000 block of K Street in June 2010, has emphasized the need to update the 1980s facilities and to create a winter attraction — the 11,000-square-foot ice rink in the central fountain area. The firm hopes to begin construction in the first half of next year.
At its September meeting, the Old Georgetown Board supported the gist of MRP's plans — including the ice rink — but asked the company to remove fewer elements of Washington Harbour's original design.
"The general guidance was they didn't want to see a piecemeal replacement and stripping of the elements which were part of its original design — that [board members] were willing to consider certain repairs and alterations where it was truly necessary," said Luebke.
The revised plans that the company brought forward this month — which the Georgetown advisory neighborhood commission also supported last week — retain the decorative base of the plaza's tower, but retrofit a glass enclosure and white-noise waterfall.
The Old Georgetown Board also approved plans to relocate freestanding bars farther from buildings; to remove a deteriorating ornamental column near the river; and to make a series of modifications to lighting, storefronts and landscaping.
In developing the plans, MRP has worked extensively with residents who live in Washington Harbour's condominiums. At the Oct. 3 neighborhood commission meeting, a representative of the condo board said the group generally supports the project, despite a few remaining issues.
Neighborhood commissioner Bill Starrels, whose single-member district includes the waterfront complex, thanked MRP for collaborating with the community.
"As you know, it's a very important piece of property for Georgetown," Starrels said at the neighborhood commission meeting. "And you've heeded a lot of suggestions. … And hopefully it will continue to evolve in a very positive fashion.
This article appears in the Oct. 12 issue of The Georgetown Current newspaper.