Washington Harbour Ice Rink Opening for Season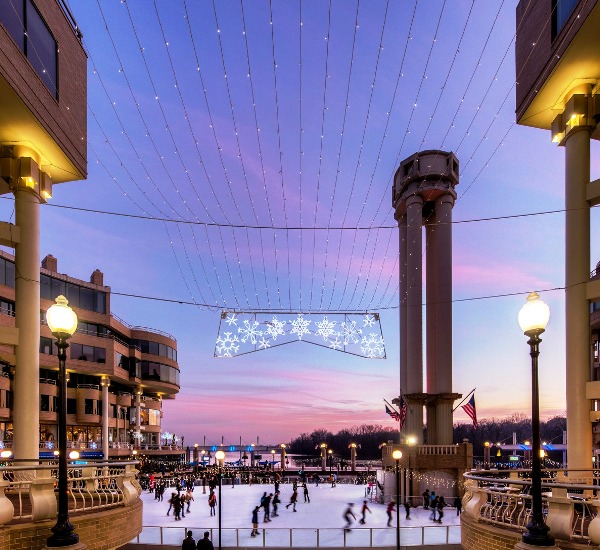 Washington Harbour, the largest in Washington, DC, will open its outdoor ice rink for the season and public skating by Friday, November 13, 2015. The rink will be open every day for recreational skating until March 2016, including all holidays, and will offer individual and group lessons for all skill levels, birthday parties, private events, and special events.
This will be the fourth season of operation for the rink on the Georgetown waterfront. with iconic views of the Potomac River and a glittering nighttime atmosphere, surrounded by restaurants for indoor and outdoor dining.
Washington Harbour Ice Rink is located at 3000 K Street in Georgetown.
Ice Skating Rates – 2015-2016 Season:
Adults: $10.00; Children/Seniors/Military: $9.00; Skate Rental: $5.00; Season Pass: $175.00 (includes skate rental). Birthday Parties, Group Rates, and Private Rentals are also available. Helmets and penguin skate aids are available, free of charge, first come-first served.
Hours of Operation – 2015-2016 Season:
Monday – Tuesday: 12:00 p.m. – 7:00 p.m.
Wednesday – Thursday: 12:00 p.m. – 9:00 p.m.
Friday: 12:00 p.m. – 10:00 p.m.
Saturday: 10:00 a.m. – 10:00 p.m.
Sunday: 10:00 a.m. – 7:00 p.m.
Weekly skating events include:
Two for Tuesday Skate: 2 for 1 admissions on Tuesdays from 4:00 until 6:00 p.m. (skate rental not included)
College Skate Night: Every Thursday evening, receive $2 off admission with a valid college ID
Cartoon Skate: Every Saturday morning from 10:00 a.m. until 12:00 p.m.
Rock N Skate: Every Saturday night from 8:00 p.m. until 10:00 p.m.